Apparel Search is a leading guide to fashion, style, clothing, glam and all things relevant to apparel. We hope that you find this Women's Maternity Swimwear page to be helpful.

Maternity swimwear, similar to most other maternity fashion, has undergone a revolution of fabulous improvement. This has been helped enormously by changes in the stretchability of certain fibers used to make swimwear such as Spandex, Elastane, and Lycra.

Bikinis, tankinis, one-piece suits and more. Pregnant women have a wide assortment of style options.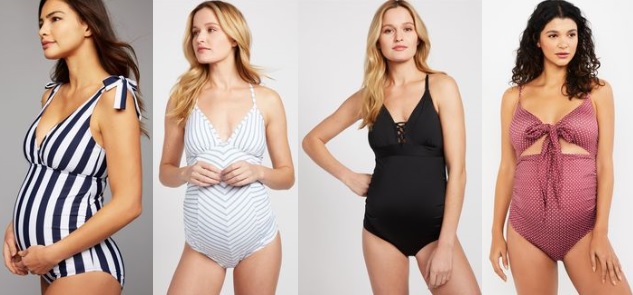 Maternity is the the period during pregnancy and shortly after childbirth. Maternity apparel is worn by women in some cultures as an adaptation to changes in body size during pregnancy. Stretch fabrics are almost always important in the swimwear market. For maternity swimwear, even more important.
The good news about maternity swimwear is that there has never been a greater selection available to expecting mothers. We suggest that you research proper support, but also be careful to not be too restrictive.
Learn how to look and feel your best through each trimester of your pregnancy with maternity dressing tips from expert stylists. We suggest that you visit some of the maternity magazine websites or blogs to read some of the latest tips for your pregnancy.
What ever style of swimwear you are wearing, we are sure you look fantastic.

If you want to be even more stylish, you should wear your favorite maternity swimsuit today.