Welcome to the worlds most fabulous guide to women's retro fashion.
Drawing inspiration from past decades can combine elegance & fabrics choices to offer timeless pieces that are completely timeless.
Retro style is a style that is imitative or consciously derivative of lifestyles, trends, or art forms from the historical past. In summary, retro fashion is clothing, footwear, or accessories designed to imitate fashion from previous decades.
A few of the popular fashion categories are as follows:
Retro dress
Retro coats
Retro blouses
Retro pants
Retro sweaters
Retro hats
Retro eyewear
Retro sneakers
Women's retro fashion is clothing, shoes or accessories that are inspired by past decades of fashion design.
Retro, short for retrospective, or "vintage style" usually refers to clothing that imitates the style of a previous era.
Categories of Women's Retro Fashion.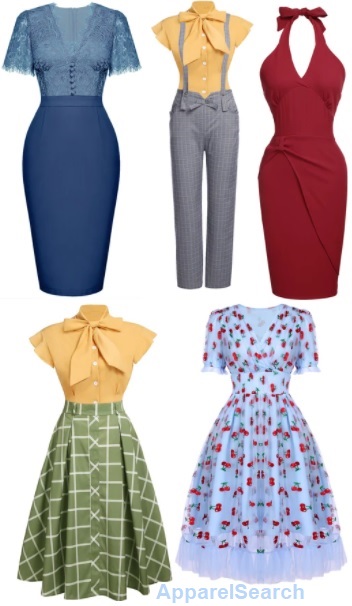 Learn more about retro fashion in our terminology section.
When shopping for retro clothes or footwear, consumers can find authentic items from a particular period of time or product more recently made but following design inspiration from the originals.
You may find the following sections of our site to be of interest.
Join us for discussions about vintage fashion at the Vintage Fashion Group.
You can also visit our Women's Retro Fashion accessories section.
Apparel Search is a leading guide to fashion, style, clothing, glam and all things relevant to apparel. We hope that you find this Women's Retro Fashion page to be helpful.
What ever style of clothes you are wearing is in fashion.
If you want to be even more stylish, you should wear your favorite retro styles today.