Welcome to our fantastic guide to Women's Toe-Ring Sandals. Are you actually looking to further research this type of ladies footwear? Well, we hope you are because the reality is that you have found our women's toe-ring sandal page. In this section of the Apparel Search directory, you will find all sorts of interesting information regarding this topic.
What is a sandal? You can learn about sandals in or fashion influence section and you can also research women's sandals here in our clothes & footwear guide section.
A ring is a small circular band. A sandal toe ring is a small circular band on the sandal that wraps around the wearers big toe.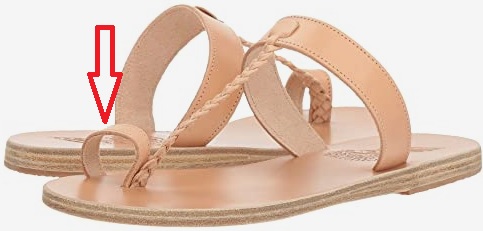 Feel like a goddess in a pair of fabulous toe-ring sandals.
You can shop for this type of footwear at retailers such as Macy's, Dillard's, and numerous shoe stores.
What ever you are wearing on your feet is in fashion
. If you want to be even more stylish, you should wear your favorite Toe-Ring Sandals today.

Apparel Search is a leading guide to fashion, style, clothing, glam and all things relevant to apparel. We hope that you find this Women's Toe-Ring Sandals page to be helpful.