Welcome to our trendy guide to Women's Thong Sandals. Are you actually looking for information on this topic? Well, we hope you are because the reality is that you have found our page about ladies thong style sandals. In this section of the Apparel Search directory, you will find all sorts of interesting information regarding thongs.
The primary difference between shoes and sandals is a sandal leaves all or most of the foot exposed.
A thong sandal has the sole held onto the foot by a Y-shaped strap known as a toe thong that passes between the first and second toes and typically around both sides of the foot.
Light and airy thong sandals can be the perfect choice for the warm days of summer.
A flip flop is a type of thong sandal.
The thong sandal can be your go to choice during the summer or when vacationing in a warm climate.
They can be with a flat sole or heeled. With or without buckles, and many other design features. Thong style footwear comes in a wide variety of materials & styling options.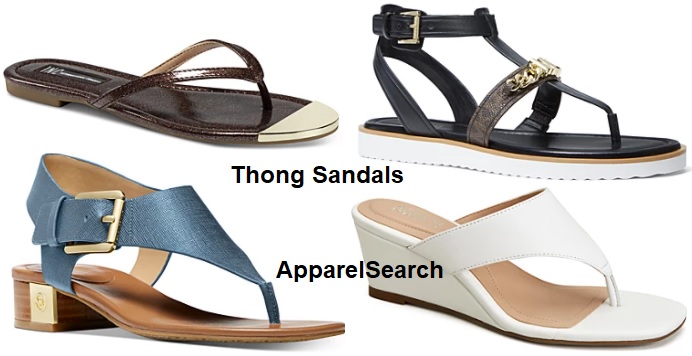 You can find this type of footwear at most department stores, fashion boutiques and shoe stores.
You may also want to research toe-ring sandals.
Learn more about thongs & sandals.
What ever you are wearing on your feet is in style. If you want to be even more stylish, you should wear your favorite women's thong sandals.
Although it is not mandatory when wearing thong sandals, if you are interested (and you are a women), you are welcome to walk around town wearing thong underwear or thong swimwear while wearing your sandals... The choice is yours.
You may find the following footwear categories of interest for further research.