In summary, sandals are a light shoe with either an openwork upper or straps attaching the sole to the foot.
The distinction between sandals and other types of footwear can sometimes be a blurry line, the common understanding is that a sandal leaves all or most of the foot exposed.
Sandals are a type of footwear that is open, consisting of a sole held to the wearer's foot by straps going over the instep and around the ankle. Sandals can also have a heel.
Women typically wear sandals in warmer climates or during warmer parts of the year in order to keep their feet cool and dry. However, they are worn for a wide assortment of reasons and occasions throughout the year.
A women's sandal may have the sole held to the foot by a narrow thong that generally passes between the first and second toe, or by a strap or lace, variously called a latchet, sabot strap or sandal, that passes over the arch of the foot or around the ankle.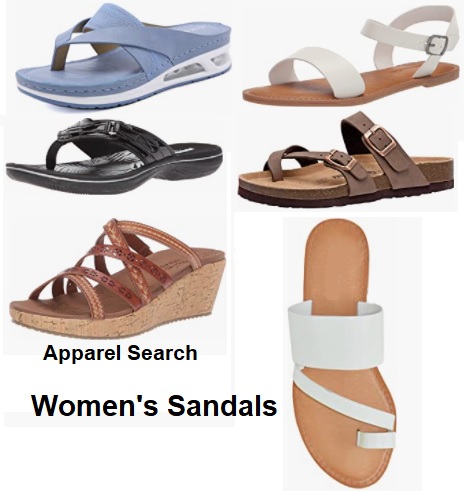 This type of footwear can be made from a wide variety of material options. A sandal may have a sole made from rubber, leather, wood, tatami, rope or other materials.
You will probably want to also learn about flip flops, clogs & slippers.
Learn more about other types of shoes.
You may also want to check the toe-ring sandals page.

You may find the following sections of our website to be of possible interest.