Slippers are often thought of as casual shoes, but we wouldn't consider ruby slippers or glass slippers to be very casual.
Slippers are comfortable slip-on shoes that are typically worn indoors. The goal is comfort and ease of use. They are intended to be easy to put on and take off. They offer protection for the wearers feet when walking indoors (typically in the home).
Slippers come in various colors, shapes, and sizes. Although they are often made in a one-size-fits-all version, you can also find slippers that fit a specific size foot (same concept as other footwear).
Variations include open-heel, closed heel, sandal slippers, evening slippers, etc. You can even find the category of "soft adorable super comfy slippers". OK, that might not technically be an official footwear category.
Why wear slippers?
What if you step in gum or dog poop on your daily adventures outside your home? Wouldn't it be better to take off your shoes at the entrance of our house and put on a nice comfortable pair of slippers? Probably better than wearing dirty sneakers or high heels around the house.
Slipper brands to consider: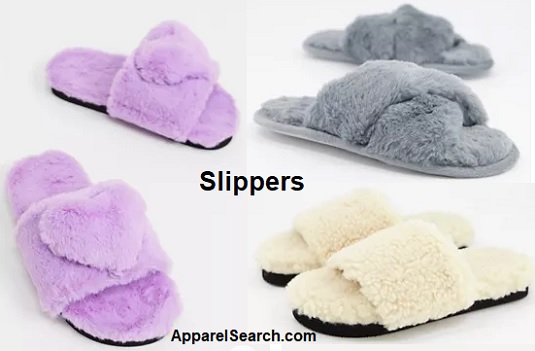 Stores selling slippers:
Target
Walmart
Kohls
ASOS
Macy's
You may want to also learn about moccasins.