Welcome to our guide to Women's V-neck Shirts. Are you actually looking to research the v-neck shirt style for women? Well, we hope you are because the reality is that you have found our page on the topic.
A shirt is a cloth garment for the upper body. The neckline of the shirt can come in various styles.
One common variation of a shirts neckline is the v-neck style.
The neckline is the top edge of a garment that surrounds the neck, especially from the front view.
Simply put, the v-neck shirt has a neckline which has straight sides meeting at a point to form a V-shape (like the letter "V").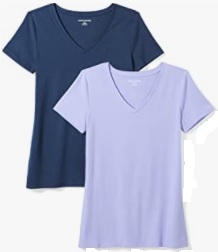 The women's v-neck shirt comes in various styles, colors, and fabrics. This type of neckline can be used on t-shirts, tank tops, sweatshirts, sleep shirts, etc.
If you are looking for other V-neck Tops you may want to learn about V-neck Sweaters.
What ever style of shirt you are wearing is in fashion this season for sure.
Learn about different shirt styles.
If you want to be even more stylish, you should wear your favorite Women's V-neck Shirts.
Learn more about necklines in our clothing industry definitions section.
You may find the following fascinating links to be of possible interest.

Apparel Search is a leading guide to fashion, style, clothing, glam and all things relevant to apparel. We hope that you find this Women's V-neck Shirt page to be helpful.