Are you actually looking for Women's V-neck Tops?
Is their a difference between a shirt & top? Well a sweater is a type of top and we would not necessarily call a sweater a shirt. The main difference between a shirt and sweater is that the shirt is a garment for the upper body and sweater is a knitted garment for the upper body. Yes, both garments are for the upper body.
The difference between shirt and sweater is that shirt is an article of clothing that is worn on the upper part of the body, and often has sleeves, either long or short, that cover the arms while sweater is a knitted jacket or jersey, usually of thick wool, but can be made of other materials as well.
With that said, a V-neck top, V-neck shirt, or V-neck sweater are all categorized as a v-neck simply because they all share a common neck line.
The v-neck tops have a neckline which has straight sides meeting at a point to form a V-shape (like the letter "V").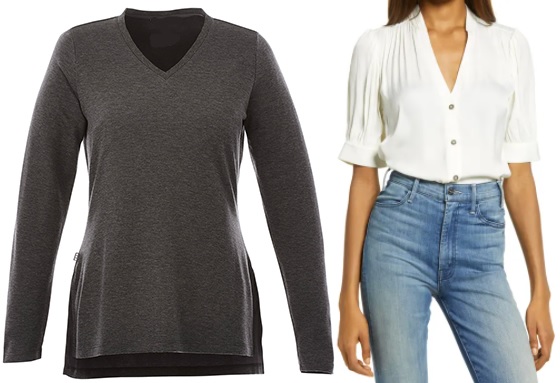 What ever style of top neckline you are wearing today is in fashion.
If you want to be even more stylish, you should wear your favorite Women's V-neck Tops.

Apparel Search is a leading guide to fashion, style, clothing, glam and all things relevant to apparel. We hope that you find this Women's V-neck Tops page to be helpful.
You can also check the Women's v-neck shirts and Women's v-neck sweaters sections.