Guess what happens in the winter in certain areas of the country. Yes, it snows. If you live or travel to a region with snow, you will want to wear appropriate footwear.
Winter is the season between autumn and spring comprising in the northern hemisphere usually the months of December, January, and February or as reckoned astronomically extending from the December solstice to the March equinox. Winter is caused by the axis of the Earth in that hemisphere being oriented away from the Sun. If you are farther away from the sun, might get more cold.
Winter boots are designed for cold weather or water resistance and are great for casual wear. If you'll be exposed to ice, snow or rain, step it up to waterproof boots to keep dry.
Taller boots help keep snow and water from sneaking in from above. You can also add gaiters or cover the boot tops with snow pants to keep the wet stuff at bay. Traction Sole materials is also important so that you have a better grip when walking.
Learn about snow boots in our fashion influence section.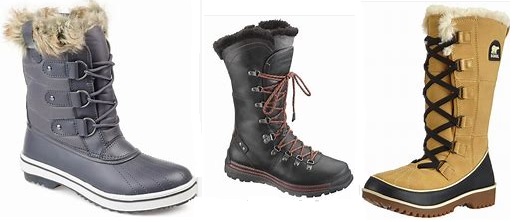 Learn about all weather boots for women.

Learn about different types of shoes.
Apparel Search is a leading guide to fashion, style, clothing, glam and all things relevant to apparel. We hope that you find this Women's Winter Boots page to be helpful.
What ever you are wearing, is in fashion.
If you want to be even more stylish, you should wear your favorite Women's Winter Boots.