Are you familiar with mukluks?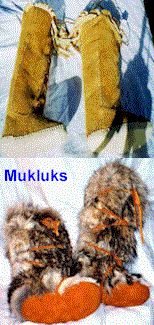 If you are looking for mukluk factories you have come to the proper place. Below you will find our mukluk manufacturers directory. This is an international apparel guide with listings from various countries.

Authentic Canadian Mukluks: Uncommon, cutting-edge, and designed with a tasteful eye for the contemporary. You won't find "trendy" fashion footwear here. Instead, you will find trendsetting Mukluks which seamlessly blend the worlds of Canadian Native art and fashion. Working with a circle of talented artists, as they hand-craft one-at-a-time, each individual boot. Their collections are made with exceptional quality and total exclusivity - a rare find in today's fashion world. Each Mukluk is unique, exciting and distinctively original - just like you.
---

Manitobah Mukluks : Manitobah Mukluks makes the original winter boot of America. As an Indigenous-owned company, our vision is to build a vibrant, global brand that makes a significant impact in Indigenous communities. Experience the warmest and most comfortable boots in the world!
---

Wakonsun : Shoes, native design footwear manufacturer in Canada, moccasins, mukluks and sandals for women, men and youth. Inspired by Canadian First Nations, this "authentic style" is the perfect combination between native roots, serenity and refined materials. As well as being modern and faithful to the native design motifs, Wakonsun offers for women, men and youth a must have selection of moccasins, mukluks and sandals in a variety of "timeless styles".
We will add more Mukluk Factories to our footwear factory directory as soon as we have more information from manufacturers of Mukluks ... If you know any mukluk factories, let us know.
Thank you for using the Apparel Search website.