If you are searching for overall factories you have come to the proper place. Below you will find our overall and shortall manufacturers directory. This is an international apparel guide with listings from various countries.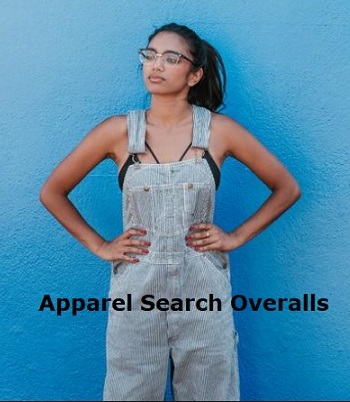 Fashion Knit: They have a stitching unit in Pakistan. They make denim jeans for boys and girls, and for men's and women's. They make basic 5 pocket denim jeans, shirts, jackets, shorts,cargo jeans, working jeans, twill and khaki jeans. They use 14.50 oz denim fabric, and their production is 35,000 pices per month. Address: 8 berri villa cannal park gulberg 2 Lahore 54660 Pakistan Phone: 5151927 or 843097 Fax: 5123200 Email: fashionknit@yahoo.com Contact: waqas ahmed / farhan
Manufacturer Item # 1: denim shirts
Manufacturer Item # 2: denim jacket
Manufacturer Item # 3: denim pant
Manufacturer Item # 4: twill pant
Manufacturer Item # 5: overall
Manufacturer Item # 6: cargo pant
Manufacturer Item # 7: carpenter pant
---

G. M. Garments (Pvt.) Ltd. (Pakistan): has been associated with the textile industry since 1986. Capitalizing on its cast experience on a reliable textile supplier. The company entered in the export field in 1992. Since then it has managed to make a big name for itself as a reliable export partner in many countries of the world. The company has its own knitting dying and stitching arrangements. They are capable of manufacturing a diversified range of knitted & woven garments. Round-Necks,.. Rugby Shirts, Sweat Shirts Men's knit shirts of all types Polo, Henley , ..Crew neck , Turtle Neck, Leggings, Jog Pant.. Mock ..different... Textures, Pique, Single Jersey ,whether solid, Cut & Sew, print or yarn dye For man ...women and kids. and.. knitted fitted bed sheets with pillow cover ,Valance and gray fabric. Their product of knit garments division; Men shirts, Trousers, Jackets, overall, Industrial Garments, Hospital apparel, Bed Sheets , Pillow are the main product of woven depart. Address: ws-11/1 Block 2 Karachi 75950 Pakistan Phone: (092-21) 6321908 Fax: (092-21)6338561 Email: gmg786@super.net.pk Contact: Ghulam Mustafa / Ghulam Sarwar
Manufacturer Item # 1: Men's Shirts
Manufacturer Item # 2: Jogging Suits
Manufacturer Item # 3: Jackets
Manufacturer Item # 4: Overalls
Manufacturer Item # 5: Hospital Apparel
Manufacturer Item # 6: Uniforms
---

Horntex Garment Co. Ltd. (China): they are an experienced manufacturer for European market. With the growing of their factory, they desire to cooperate with the friends all over the world. Their main product material is: T/c poplin, T/c twill, 100% cotton, Nylon, Taslon, Non-woven(Poly-poplin) and various material with coating. Rainwear Material: 100%PVC, PVC/polyester, PVC/polyester/pvc, Nylon /pvc, Pongee/pvc etc. Address: Unit 204, North Building 448 Heping Road, Shijiazhuang, China 050071 Phone: 86 311 7830676, 86 311 7810721 FAX: 86 311 7810677 E-mail: horntex@heinfo.net or bw794@yahoo.com.cn Contact: Mr. Alan Chang
Manufacturer Item # 1: F

ishing Vest

Manufacturer Item # 2: R

ainwear

Manufacturer Item # 3: PVC

Apron

Manufacturer Item # 4: PVC S

leeve

Manufacturer Item # 5: B

ody Warmer

Manufacturer Item # 6: M

otor Jacket

Manufacturer Item # 7:

Overall
---

H T Hughes and Co (overalls) Ltd (United Kingdom): Manufacturers and suppliers of a complete range of workwear, and corporate clothing. Clothing manufactured to customers own requirements / design both in the UK and Far East. Standard range of workwear personalised with your company logos etc. Address: 91 Hardcastle Road Stockport SK3 9DE UK Phone: 44 1614802545 Fax: 441614802545 Email: sales@hthughes.com Contact: Tim Hughes, Director
Manufacturer Item # 1: overalls
Manufacturer Item # 2: boilersuits
Manufacturer Item # 3: workwear
Manufacturer Item # 4: work trousers
Manufacturer Item # 5: work jackets
Manufacturer Item # 6: corporate clothing
Manufacturer Item # 7: company logos
---

L.C King Manufacturing Company (USA): Pointer Brand High Back, Low Back and Carpenter Overalls, Carpenter Jeans, Blue Jeans, Coveralls, Hunting Clothes, Denim Jackets, Shorts and Shortalls for Adults and Children. All made in the USA, since 1913. The L. C. King Manufacturing Company is proud to make everything in the U.S.A. Having survived two floods and a fire, it still operates out of the original location in downtown Bristol, Tennessee. The employees make bib overalls, coveralls, carpenter jeans, hunting apparel and denim chore coats. Several employees have retired after 50 years of service.
---

Prime Group (Bangladesh): since 1984 they have started their own company in Bangladesh. They have three unit each unit three line each line 150 machine. Address: 33/1 Issa Hhan Road narayan ganj 1400 Bangladesh Phone: 0088-02-9715728,011-801608 or 0088-02-9716212 Fax: 0088-02-9715728 Email: pritam@global-bd.net Contact: Abu Zafar Ahmed (Babul)
Gender: Men's and Boy's
Manufacturer Item # 1: men

'

s

&

boy

'

s pants
Manufacturer Item # 2: overall
Manufacturer Item # 3: shortall
Manufacturer Item # 4: jacket
Manufacturer Item # 5: pajama
Manufacturer Item # 6: shorts
Manufacturer Item # 7: shirts
---

Provati Apparels Limited (Bangladesh): export oriented Ready Made Garments Factory, situated at Chittagong, the 2nd largest and largest Port City of Bangladesh. They believe in social responsibilities, they care for their working hands, working environment. They are aware of safety, accountability and commitment. They produce all kinds of Trousers, Shorts, Overall, Shortall, Jackets and Children Wear made of Denim, Twill, Polyester, T/c, Cord, Canvas, Micro fabrics, Etc. The Factory is capable to produce 50,000 Pcs per month with product mix of two. The top management of the factory led by well educated, experienced person who worked for different Foreign Owned Garments Factory and carrying long history of RMG sector in Bangladesh. The mid level management of the factory is a team with combination of experienced Administrator, Commercial and Production Manager, Quality Controller and Others. The strength of the factory is a team of 8 Supervisors, 110 Skilled Operators, 70 Helpers, 20 QC's, are capable to produce good quality products on time. The factory equipped with latest sewing and other supporting machines like Eastman brand Cutting, Juki brand Single Needle, double needle, Interlock, Over-lock, Feed-of-the-Arm, Bar taking, Button Hole, Button Sewing, Kansai Special, Reech brand Eyelet B/hole, Naomotto Steam Boiler, Iron, Vacuum iron table and other machines. They have their supplier base in Hong Kong, China, Taiwan, India and Bangladesh for procurement of good quality fabrics & Accessories at competitive prices with minimum lead-time. By coordinating related Government authorities, Banks, Suppliers, Factory and Forwarder they can reduce Lead Time of Order Execution Cycle and assure timely delivery of goods with quality. Address: 1050/a., South Bakuli, Shah Amanot Bridge Connecting Road, Rajakhali Chittagong 4000 Bangladesh Phone: 88-031-637079 or 88-018-318993 Fax: 88-031-612219 Email: pal@abnetbd.com Contact: Gazi Mahbubul Alam, Director
Gender: Men's
Manufacturer Item # 1: Trouser
Manufacturer Item # 2: Shorts
Manufacturer Item # 3: Jackets
Manufacturer Item # 4: Overalls
Manufacturer Item # 5: Shortalls
Manufacturer Item # 6: Vest
Manufacturer Item # 7: Jeans
---

Rives Apparel International LLC (El Salvador): they provide sourcing and manufacturing services for the apparel industry. They offer CMT and full-package apparel production utilizing piece goods from teh USA, El Salvador and Asia. They produce casual pants, shorts, cargo pants, hunting pants, fatigues , overalls, shirts, skirts, and children's sleepwear. Address: Export Salva Free Zone Edificio # 7 Km. 24 Carretera a Santa Ana Lourdes, Colon, La Libertad, El Salvador, C.A. Phone # 503 366 5300 Fax # 503 366 5327 USA Office: 1022 Hutton Lane, Suite 108 High Point, NC 27262 Phone # 336 688 4500 Fax 336 887 4515 Contact: Jeff Rives E-mail: jrives@rivesapparel.com
---

Round House Mfg. Co. (USA) Production American made manufacturer of bib overalls and work clothing. Low minimums and fast turns. Can do full package services. Refurbishing Clothing Centrally located in the U.S. They can do repairs, repackaging, inspection and shipping of work clothing. Contact Jim Antosh Address: 1 American Way Shawnee, OK 74804 Phone 405-273-0510 Fax 405-273-0511 Contact: Jim Antosh e-mail: jim@round-house.com
Overall Manufacturer

Refurbishing
---

Style Crafts (P) Ltd. (Nepal): they are high quality garments manufacturer/exporter. They produce more than 100,000pcs garments per month. They seek to establish long term business relationship with reliable and reputable buyers/importers in worldwide market. Further, they have free quota for USA and also duty free facility (under GSP, FORM A)to European importers. Currently, they are working to different upmarket importers/stores in USA and Europe. Address: Gha 1-50, Gyaneshor, Kathmandu 1001 Nepal, Asia Phone: 00977-1-412086 or 00977-1-484605 Fax: +977-1-422162 Email: sweta@mos.com.np Contact: D. D. Pant
Gender: Children's
Manufacturer Item # 1: Shirts
Manufacturer Item # 2: Shorts
Manufacturer Item # 3: Overalls
Manufacturer Item # 4: trousers
Manufacturer Item # 5: blouses
Manufacturer Item # 6: skirts
Manufacturer Item # 7: dresses
---

U & I Garments (Pvt) Ltd. (Pakistan): U & I Garments Pvt. Ltd., is solely family owned entity which is in garment business for the last 16 years, the company is run by highly professional team of management. The factory is situated in the heart of the industrial hub of the country, Korangi Industrial area Karachi Pakistan. The factory is located on main highway with easy access to resident and commercial area also clear passage to both the sea & airport. The factory has covered area of 95000-sq. ft with a total of 850 strong & healthy staff. The factory is self contained which has in-house residential facilities, staff & workers canteen, medical facilities and power supported by Government electricity & their own generators power. U & I Garments (Pvt.) Ltd. was established at Karachi, Pakistan in 1985. The company operates from modern premises at the heart of the industrial site of the country. It has a covered area of 95000 sq. ft. with additional two separate full fledge sewing unit, with 35000 sq. ft. with annual turn of over 3000000 PCs of woven garment. Their Products range includes Pants, Shorts, Coveralls, Overalls, Shortalls, Jumpers, Rompers, Dresses, Skirts, Shirts, and Jackets. fabrics: 100% Cotton Denim from 4.5 oz to 15 oz. " " Twill, Canvas, Bull Denim, Sheeting, Corduroy, yarn Dye Poly Cotton, Nylon cotton, various construction. Technology: CCTV the unique way of surveillance, every floor is equipped with remote access monitoring system, every production floor can be visually viewed from any part of the world, all just one has to dial the dedicated number, and can observe the actual working on minute to minute bases. Address: St.2/12, Sector 19, Korangi Industrial Area Karachi. Karachi Pakistan Phone: 9221-5064901-3 Fax: 9221-5064904 Email: uigmts@fascom.com Contact: Sohail Hamid Khan (Managing Director)/ Syed Mahmood Alam (Director)
Manufacturer Item # 1: Pants, Shorts
Manufacturer Item # 2: Jacket, Quilted Jackets
Manufacturer Item # 3: Shortall, Overall
Manufacturer Item # 4: Jumper, Romper
Manufacturer Item # 5: Shirt, Dress
Manufacturer Item # 6: All kind of Knitted Garments
Manufacturer Item # 7: Denim, Bull Denim, Twill, Sheeting, yarn Dye, Canvas (100% Cotton, 96 % Cotton 4% Lycra, Stretch Twill

Search for additional information about Apparel, Fashion or Clothing. Learn about other types of pants for men and women. Search for additional overall factories.
Overall Pant Factory Directory
Thank you for using the Apparel Search website. Overalls are a fun type of pant. Or are they a type of shirt?