Apparel Search is a leading guide to fashion, style, clothing, glam and all things relevant to apparel. We hope that you find this Women's Overalls page to be helpful.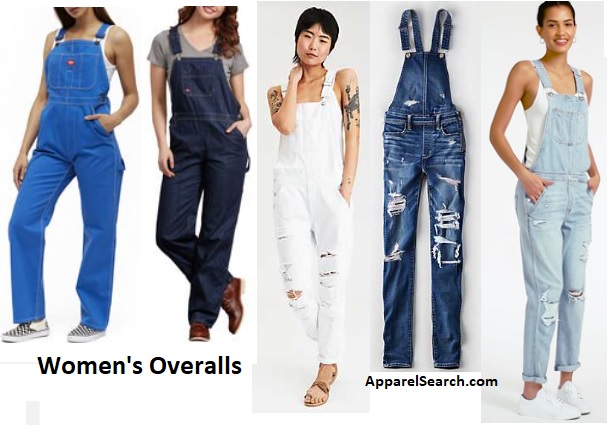 What is an overall?
An overall is a garment consisting of trousers with a front flap over the chest held up by straps over the shoulders, made of sturdy material and worn especially as casual or working clothes. However, they are also worn as fashion statements rather than as work clothes. Overalls are often made of denim fabric, but not always.
Overalls were originally made of denim, but they can also be made of corduroy or chino cloth.
The first evidence of overalls being mass-produced are those made by Levi Strauss and Jacob Davis in the 1890s. The first "jeans" they invented were actually overalls ("waist overalls" or "waist-high overalls"), consisting of suspenders attached to denim pants with buttons. There was no top part with a bib.
In the 1930s, the poorest segments of the American population wore overalls: farmers, miners, loggers, and railroad workers. Bib overalls (in different colors and textiles) have become a popular garment among American youth, from the 1960s onward.
A women's overall can also be called bib overalls.
Can overalls be made as shorts? Yes, but then they are called Shortalls. Shortalls (a contraction of the words "short" and "overalls") are overalls adapted so the part of the garment below the waist is shorts.
Learn about overalls.
What ever you are wearing, is in fashion.
If you want to be even more stylish, you should wear your favorite Women's Overalls.

Women's Clothes Directory: