An overall is a type of garment which is usually used as protective clothing when working. Some people call an overall a "pair of overalls" by analogy with "pair of trousers".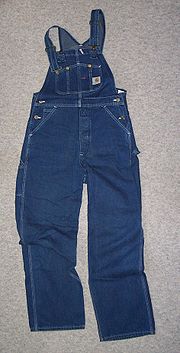 History
The 1989 issue of the Oxford English Dictionary lists:
The word "overall" (as garment):
First in 1792 as "overalls" or "overall trousers" = "trousers worn outside the normal trousers to protect them" (from which the "bib-and-brace" use).
First in 1815 as "overall" = "any outermost coat or cloak", with a long list of examples, which do not show when "overall" began to mean "boilersuit".
The word "boilersuit" first on 28 October 1928 in the Sunday Express newspaper.
The first mention of boilersuits known here is in a special rule for manufacturing explosives, laid down in 1891: "Overall suits and head covering shall be supplied to all workers"
The one-piece work overall arrived in 1891-1916, in tough cotton or in linen, to fit over a shirt or vest and trousers. (The cloth cap began to spread through the working class, and some women wore them too.)
In the beginning of the 20th century, coveralls came in as protective garments for mechanics in the USA.
Women wore overalls in factories in England during the First World War in 1916.
Rules were implemented in match factories: "Suitable overalls are required for all workers employed in the phosphorus process, except for people who only put the matches in boxes".
During the Spanish Civil War, the Communist soldiers used boilersuits as their uniform. Early aeronauts also wore specially designed one-piece suits.
In the 1930s, overalls were used as comfortable children's clothes.
After W.W.II, many athletes also utilised the advantages of overalls.
Overalls have sometimes been items of fashion, in the 1960s and 1970s. By analogy with protective clothing, technical students started wearing overalls to specific events in Sweden and later in Finland, and later the practice spread to all students.
Consequently the fashion world began to sell one-piece overalls as high-quality leisure wear. Ski-overalls were and still are especially popular.
Several years ago there was a time when boiler suits were very fashionable, especially jeans-type coveralls.
Shortalls
Boilersuit
Discussion boards are a great place to meet other members of the fashion industry, get advice, and share information. This forum was created to discuss the topic of this page. If you have questions, or information to improve this page, please join in the community discussion below. Please keep the communication on topic and for the purpose of education.