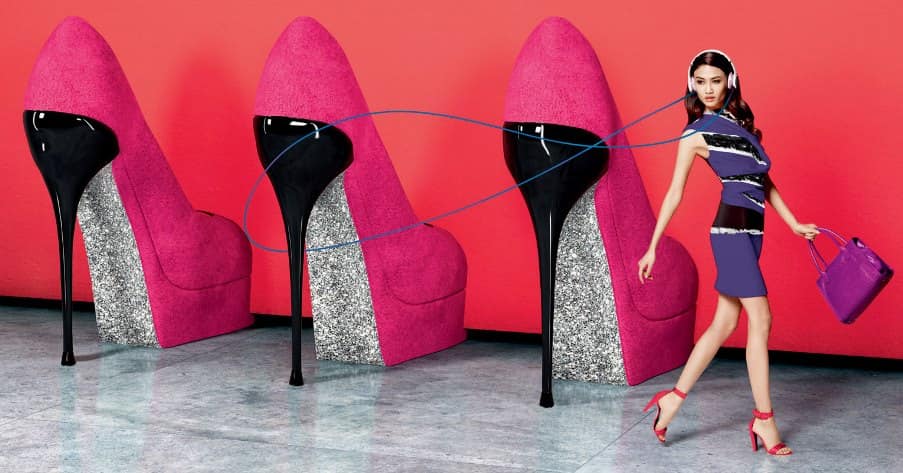 Shoes, shoes, marvelous shoes. Who doesn't simply adore shoes? OK, you are probably correct in thinking that "some people" could not care less about footwear. Fortunately for all of us, those fools are not reading our website. You are currently in a fool proof zone where only lovers of fashion exist.

Are you ready to view the most amazing footwear collections in the universe? Yeah, me too. Below you can browse some of our favorite footwear finds for 2014. Oh, let me remind you of one thing before you begin to explore. We are NOT saying that all of the footwear in this section was designed, presented, or sold in 2014. These are the trendy shoe styles, brands, and websites that we recommend for your exploration in 2014.
A few trendy favorites
Giuseppe Zanotti Design



Style # E40088 001



Black drummed calfskin gladiator sandals with zip at back, ankle straps and gold accessory.


Gucci

This trendy shoe is an example of the fine work done by the Gucci team. Gloria shocking pink python high heel bootie. Reference # 32-623 E7400 5612. This bootie was made in Italy and has a metal Gucci logo under the arch of the shoe. The side zipper pull has an embossed Gucci logo.


Christian Louboutin

These spiked boots are the Surlapony Spikes Flat. Reference # 3130864C019. These shearling boots are made for the harsh winter months. They are one of the most fashionable ways to stay warm during Fall 2014 and beyond.


Maison Martin Margiela

Ankle boot with Perspex "trompe-l'oeil" stiletto heel. (picture left)



Tabi Boots from the Fall Winter Maison Martin Margiela collection. Laminated effect, two tone pattern, leather sole, inner zip closure, visible logo, lined interior and a round toeline. (pictured right)

Stella McCartney



Crafted of bicolor synthetic leather, this taper toe pump is designed with a high-cut vamp and thin, wood-grain-detailed wedge heel.





Vegan-friendly




Approximately 4" heel (100mm)




Synthetic leather sole




Available in Dark Brown/black




Made in Italy



This beauty of a shoe was available at Barney's.
Fabulous places to shop
Brands we adore
Sporty Side of Fashion Footwear

Dillard's

Value for our budget

Payless
Trend Spotting
One way to spot footwear trends would be to follow the designers on social media sites such as Facebook, G+, Twitter, and Pinterest. In addition to the actual designer or brand owner, you can find style makers of importance and follow their submissions. For example, you can monitor a steady flow of styles on the Pinterest trend boards that we have created. Another way to spot trends or attempt to forecast the future you can occasionally check the shoe blog posts here on Apparel Search to see additional footwear that we have been discussing this year.
What is your favorite shoe brand? Who is your favorite footwear designer? Share your thoughts in the comment area below.
comments powered by Disqus