When thinking about the best shoes of 2017 for women it is important to keep in mind various seasons as well as silhouettes. Sandals are an important style of footwear to keep in mind.
Here are a few Fendi sandals to keep in mind as possible favorites for 2017.
Are they sandals or are they boots? This luxurious footwear from Fendi is both.
Red knitted open-toe sandals Code: 8X6513OD9F09G9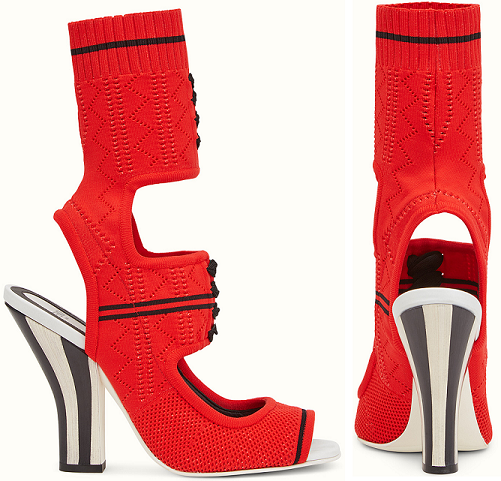 Rockoko Runway sandals in slightly elasticated lava-red and black yarn. A mix and match look that combines the sporty details of lace-up sneakers with cut-out inserts on the heels and instep, with open toes. Finished with openwork all over the shoe and ribbed edging on the leg. High heel with two-tone striped lining. Made in Italy.
See these trendy Fendi knit sandal boots in black.
Below are a few more women's sandals from the Fendi collection.

Learn more about stylish sandals at https://www.fendi.com/
Fendi is an Italian luxury fashion house whose specialties include fur, ready-to-wear, leather goods, shoes, fragrances, eyewear, timepieces and accessories.
A sandal is a light shoe with either an openwork upper or straps attaching the sole to the foot.