<![if !vml]>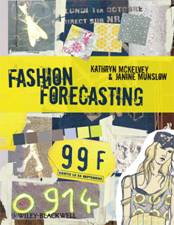 <![endif]>
Fashion Forecasting
by Kathryn McKelvey & Janine Munslow

Everyone in the fashion business needs to develop an essential survival skill: how to interpret the intelligence provided by the fashion forecasting industry, to anticipate and respond to emerging trends.
Lavishly illustrated in full color throughout, with clear and relevant explanations of the processes involved, Fashion Forecasting is for fashion students and young professionals who already have acquired some fashion knowledge and skills. The authors interviewed the key players within this exciting industry and provide here fascinating insights into the dynamic contemporary fashion forecasting world and the varied creative roles within it - from intelligence gatherers to project consultants. The book covers how a trend is sourced, anticipated and developed, and also explores the interaction with marketing and brand development.
Key Features

Shows how to interpret the intelligence provided by the industry.
Helps you to understand, anticipate and respond to trends
Explains not only how prediction companies function but also how to communicate trends using recent developments in illustration and graphics

Highly illustrated in full color throughout
Price:
49.99 / Illustrated / Paperback / 232 pages / ISBN 9781405140041
If you would like to review this book please send a request with your full contact details to: profrevreqs@wiley.com
If you teach a course relevant to this title and would like a desk copy, please contact Laura Dolphin at:
laura.dolphin@wiley.com
Fashion Forecasting
If you are involved with fashion forecasting, please join us for discussions at the Fashion Industry Network.
The book on this page is a good selection, but do not forget to also check the fashion book website for additional fashion books.