Dual Purpose Breeds: East Friesian
MATURE BODY WEIGHT
Ram 225-270 lb.
Ewe 160-180 lb.
AVERAGE FIBER DIAMETER
Micron 33-29
Spinning Count 54-46
GREASE FLEECE WEIGHT
Ewe 9-12 lb.
YIELD
55-65%
STAPLE LENGTH
4-6"

The East Friesian originated in Northern Germany and the Province of Fiesland in the Netherlands. Imported as purebreds into the U.S. from Canada in 1994, this breed has the highest milk production of the improved dairy sheep breeds. They are a docile, large size, open white faced, polled breed with a coarse grade staple length wool. A high percentage of ewes will lamb at 12 months of age and mature ewes are highly prolific.
Search for additional information about Apparel, Fashion or Clothing.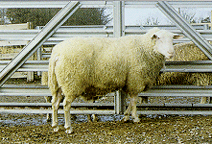 If you wish to education yourself further in regard to textiles or fibers, we suggest you check our Fashion School Directory. The Fashion Schools educate regarding fashion as well as textiles...