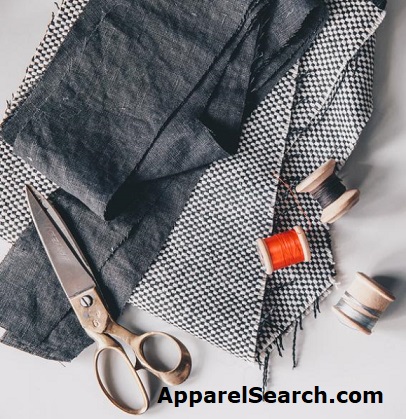 GABOR S.A.I.C.(Argentina): suppliers of elastic laces and elastic fabrics for underwear and swimwear. Laces with silicones for socks. Elastic allovers. Address: Moron 85 -Paso del Rey Buenos Aires 1742 Argentina Phone: 54 (237) 4 632 630 Fax: 54 (237) 4 634 890 Email: gaborsa@infovia.com.ar Contact: Jorge Fiore /manager
Manufacturer Item # 1: Elastic laces
Manufacturer Item # 2: Elastic fabrics
Manufacturer Item # 3: fabrics for underwear
Manufacturer Item # 4: fabrics for swimwear
Manufacturer Item # 5: Laces with silicones for socks
Manufacturer Item # 6: Elastic allovers
---

Ge-Ray fabrics, Inc.: circular knit fabric.
---

Ghanean Weaving Company (Iran): they have effective experience of more than 30 years in the field of upholstery fabric weaving. They are one of the first producers of upholstery fabrics in Iran. They have fabrics of utmost quality that is produced under the supervision of experienced staff. Address: Toos Street, Yazd 89195-476 Iran Phone: 00983515250077 or 09113510330mobile Fax: 00983515255729 Email: s_ghanean@yahoo.com Contact: Mahmud Ghanean(Board of Directors)
Manufacturer Item # 1: variety of upholstery fabrics
---

GHCL:
The Textile division at GHCL is a vertically integrated operation that manufactures premium quality yarn, Griege fabric and Home Textile products like Bed Linen, Curtains, Madeups and Cotton yarn. The two Spinning units are located within the state of Tamil Nadu, India has an Installed capacity of 125,000 spindles manufacturing 100% Cotton and Polyester Cotton yarns. The manufacturing units at the Textile Company have state-of-the-art textile machinery from Reiter, Switzerland and Schlafhorst, Germany, among others to lend that cutting edge to Quality. The production facilities are ISO 9001-2000 certified and also have been awarded the OKO-TEX certification from CITIVE, Portugal as per Standard 100, confirming our yarn to be suitable for Products used by Infants. Windpower is used for generating and meeting out the energy requirement for the spinning operations, which is not only cost effective but also eco-friendly. The make and design of our Bed-Linen, Made-ups, Cotton yarn and Curtains match up to Global standards and are available in wide ranges to choose from. As a Textile company, our R&D and advanced technological processes ensure Home Textile products are appropriately designed for cross-industry usage from Homes, Hotels to Healthcare. Products manufactured at the GHCL Textile Company are well accepted both in the Domestic and International Markets, by the Premium Buyers, who cater to the Fine Count End Products like apparels ranging from Shirtings and different types of garments, to Home textile products such as Bed-sheets, Bed-Linen, Madeups and Curtains.

---

Gideon Textiles Inc. (Canada) : They are vertical producers ,converters of knitted fabric to the apparel industry and wholesalers. They specialize in Fleece, rib, terry, lacoste and novelty knits.
They own their plant (Producers) that is why they can give UNBEATABLE PRICES on any kind of fabric. Before making your next order check with them for their prices you will be amazed with the difference. They are also Jobbers of fabric. Phone: 450-562-4445 Fax: 450-562-3477 email: gideontextiles@lycos.com Contact name: Marc Gideon
---

Gopal Fashions Private Limited: Indian fabric exporters & manufacturers of fabrics, dyed fabrics, printed fabrics, embroidered fabrics, polyester fabrics, jacquard fabrics, cotton fabrics, viscose fabrics, nylon fabrics etc. Address: 5526, Nai Sarak, 1st Floor, Near Katra Rathi, New Delhi India 110006 Phone: 91-11-3950290 Fax: 91-11-3965097 Email: vijaar@yahoo.com Contact: Raman Vij, Director
---

Grd Impex (India): They are exporters and manufacturers of high quality knitted and embroidery fabrics from India. Address: 215-A , Ranjit Avenue Amritsar Punjab Phone:91-183-504823 or 91-183-504474 Email: grdbds@mol.net.in Contact: Bobby Chugh
Manufacturer Item # 1: Raschel Dress
Manufacturer Item # 2: Raschel Laces
Manufacturer Item # 3: Tricot fabrics
Manufacturer Item # 4: Jacquard fabrics
Manufacturer Item # 5: Jacquard Curtains
Manufacturer Item # 6: Furnishing fabric
Manufacturer Item # 7: Embroidery fabric
---

Green Textiles (USA) : their focus has been and will always be customer service, quality fabrics, and pricing to meet all budgets. Through their extensive relationships with factories throughout Southern California they produce knitted fabrics from basic jersey to novelty knits, in both custom and open line. They use yarns from combed poly cotton and micromodal to organic cotton and spandex. These are just a few of the yarns that they have available and many fabrics are produced in Los Angeles. Their print division caters to customers looking for a simple stripe or to custom patterns.
---

Grupo Kaltex (Mexico): is a textile company that is 100% Mexican. Vertically integrated, by enterprizes which manufacture the following products: synthetic fiber, yarn, fabrics, garment, textile home products
---

Guilford Mills, Inc.
---

Hangzhou Jinchen Knitting & Textiles Co. Ltd.: specialize in healthcare textiles and apparel.
---

Haojey Company Ltd.: spandex fabrics, and polyester-textured, spandex-covered, cotton-core spun, and nylon-textured yarn.
---

Hayleys MGT Knitting Mills Ltd.:(Sri Lanka) Manufactures of Knitted fabrics For the Export Market. Acredited for M & S, Next, BHS & Tesco. Equipped with all modern facilities. Specialized for Single Jersey, Interlock , Pique , Fleece (Brushed/looped) Ribs ,Flat Knits ,Polar Fleece, French rib, Pointelle etc., E-mail: hmgtcol@dynanet.lk
---

Hebei Cloudbright Corp. Ltd: They produce and export horsetail hair cloth, the width,41cm,43cm,46cm,56cm,58cm. cotton yarn:30s/2,40s/2,50s/2,80s/2 color: black and mixed. The product is exported to Italy, Japan, Korea and American with finest quality and lowest price.
Address: no.213 Guanghua Street Shijiazhuang China 050071 Phone: 0086 311 8618797
or 013603396929 Fax: 0086 311 6057083 mail: julian2000cn@yahoo.com Contact: Julian
---

H. Nizam Din & sons Pvt. Ltd.: They twist their our own yarn and weave their own fabric. They have complete dying and finishing facilities of vertical integration necessary to control quality and reliability of their products. They manufacture Cotton Canvas, Number Duck, Army Duck, Enamelling Duck, Single Fill Duck upto 75 inch or 190 cms. width. Manufacturers & Exporters of various types of tents & Canvas Products since 1869. Contact them for your custom Requirements at competitive prices. Canvas Tents, Cotton Canvas & Products By Nizam Address: D - 64 S.I.T.E. Karachi 75600 Pakistan Phone: 92-21-257-8095 Fax: 92-21-256-3115 Email: sales@nizamcanvas.com Contact: Sales Director - Ali Ahmad
Manufacturer Item # 1: Cotton Canvas in Various Widths and colors
Manufacturer Item # 2: Various Toyes of Tents such as Refugee tents, MilitaryTents & Camping Tents.
Manufacturer Item # 3: Cotton Canvas Bags
Manufacturer Item # 4: Aprons
Manufacturer Item # 5: Industrial Wear
Manufacturer Item # 6: Proudly the largest exporters of canvas fabric from Pakistan.

Thank you for using the Apparel Search website.