Fashion Blogs Directory - Read fashion blogs from around the world.
Before you can read them, you will need to find them.
This fashion blog directory will help you find a wide assortment of blogs about fashion. Yes, we include the "best", but we also provide access to others that are not yet the most popular.

If you're sophisticated and chic and have a passion for fashion, style & beauty then reading the fashion blogs is for you. With a focus on clothing and lifestyle, as well as top brands and labels these fashionistas are always on the hunt for trends, emerging designers, quality product and designer bargains & fabulous discounts & sale opportunities. Reading is a great way to find stylish and sophisticated clothing, shoes, handbags, fragrances, jewelry, accessories and other must-have products.
Although you will find tons of fashion blogs below, our guess is that you can write equally or better than all of them.
It is always a good time to read about fashion, textiles, and style choices.
Fashion Blogs Directory
Below you will find many of the leading style relevant resources for your review.
Access Fashion is dedicated to knitting, crochet, needlework and other forms of handmade textiles in high fashion. A place of elegance and class in cyberspace. Authored by Jillian Rueter.
Benjamin Kanarek: Benjamin has been a Fashion Photographer for over 25 years and has consulted as a Creative Director for world-wide agencies and clients (France Telecom, Dim, Lancôme, Club Med.) and has won several citations including the Marie-Claire Gold Medal for best advertising of the year. Some of the magazines he has been published in include: L'Officiel Paris, Vogue Italy, Vogue Paris, Vogue Brasil, Dealer Deluxe, Oyster Magazine, Deutsch Magazine, Icon, Issue One, Tank, West East magazine. More recently, he joined Internet forum discussions giving advice about photography techniques and philosophy to amateurs and semi-pro photographers and recently launched his own blog: www.benjaminkanarekblog.com about photography, fashion, beauty and the advertising image industry.
The Big Fashion Bible TheBigFashionBible.com is more then just where to get great clothes, but the supporting blog offers you a glimpse of how we got to wearing what we wear today and how music is interwoven with fashion, are you a fashion trend setter or are you a fashion trend follower.
The Budget Fashionista blog geared at helping you save money when purchasing fashionable clothing
Chic Alert Aimed at women, teen and girls, the Chic Alert is about all things chic: Apparel, Clothing, Shoes, Handbags, Sexy & Hot Lingerie, Jewelry, Fragrances, Makeup, Cosmetics & even chic gadgets & other must-have products from all over the world! Designer Sales & Hot fashion sales, GWPs, reviews & much more.
Chic Inspector: A fashionista that is inspired by fashion and the industry that surrounds it.
Cupcakes and Cashmere: Cupcakes and Cashmere is a premier destination for fashion, food and lifestyle inspiration.
Fashion Blog blog web site developed by Apparel Search for the clothing industry to give blogging a try.
Fashion Blogger this is another fashion blog from the Apparel Search team.
Fashion Salad A mix of everything fashion - a low calorie blog where you can toss ideas and news about models, textiles, magazines, designers, fashion week and more! Do more than comment - fashionistas can post their own topics.
Glam Media is one of the fastest growing women's fashion and entertainment web networks. They have a network of independent fashion sites and own some of their own.
Hello Fashion Blog - fashion blog by Bogota, Colombia born Christine Andrew. This fashion blog began in December of 2011 and has been going strong ever since.
Jane Hamill: Jane's a former fashion designer who is now helping designers on the business side of things; helping them take their designs from idea to sales. Her blog has information on everything from time management to practical tips on getting your line into stores and increasing sales.
A Lucky Life: the Lucky Life fashion blog is the official blog from Lucky Brand.
Michael 84 is a men's fashion and lifestyle blog, mainly focusing on streetwear and high street fashion for guys, written by myself from Newcastle in the UK.
My Fashion Life Founded in 2003, My Fashion Life is dedicated to keeping you up-to-date with the latest in all things lifestyle. From fashion, health & beauty to food & drink, travel and interiors plus a healthy dose of celebrity style, the site also features a selective editorial of top tips, insider advice and interviews. Fashion Blog and more.
Not Without My Heels: Rachelle Yadegar has the best of both cities and carefully balances the pizzazz of each with her own personal modest style. Fashion designer, stylist, and blogger Rachelle has had a vast amount of professional experience in the fashion world. Let's just say that this chic chick is in the right pair of heels, and on her way to conquering the world!
Organic Clothing: all about organic, natural and sustainable clothing and eco-fashion.
Pink Mirage: shoe blog from the west coast of the United States.
Purse Blog: designer handbag blogs
StealThisDress.com: was started in early 2009 with the specific goal of helping women get the most out of their fashion and beauty budget. The "splurge and steal" philosophy behind all the advice on StealThisDress! is that women can look amazing AND stay within their budget when they know what products and garments they should and should not pay a lot for. The site regularly features product reviews, tips and suggestions for putting together affordable celebrity and couture-inspired outfits and budget-friendly "How To" guides.
Style Bubble: well written style blog from an interesting author. Here is a bit about her interests to give you her flavor. "Interests are overrated BUT since I have to occupy my oodles and oodles of time with some kind of activity I guess I have to say shopping for all the things that make me happy: 5 pound vintage dresses, macaroons from Laduree, NYLON magazine, Penguin Classics anniversary books, shoes with a good sturdy heel and shimmery make up. I like eating anything with red beans, garlic butter and nuts (not necessarily all at once). I like seeing films that have killer lines, killer gigs, art shows with killer paintings or artists with killer instincts and all things killer. Oh, and I like looking at the sea, because the sea likes looking back at me!!"
The Fashion Bomb Views and Reviews of sample sales, clothing trends, and shopping in New York city from the point of view of a label obsessed shopaholic. Features cameos and tips from professional fashion experts, stylists, and wardrobe consultants.
The It Lists Helps busy women define their personal beauty, life & fashion style. The must haves, it lists and trends (colors, styles, more) from the magazine pages, runways, and internet. Exciting community where in style isn't pretentious - just fun!
Don't forget to visit the Apparel Search fashion blog at your earliest convenience.
Our guide will help you find the style blog that is right for you. In our list you will find the most popular influencers as well as people that are new to blogging. You will find a wide assortment of writers, writing styles, & subjects. Learn about clothes, shoes, handbags, petite sizes, plus sizes, maternity, vintage, street style, and most other clothing relevant topics & categories. If you know of any websites that should be added to our fashion blog directory, please let us know and we will consider them for inclusion.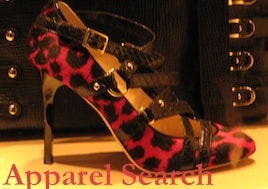 Top Style Blogs
You may also want to check out a fashion incubator or fashion association if you wish to meet other members of the fashion industry.
If you are equally anxious to learn who is considered a fashionista, you can educate yourself by reading the Fashionista Definition.
By the way, do you know what the term style blog means? If you are not certain, you can read our style blogs page to learn more.
If you write fashion blogs but are not yet listed in this section, you are welcome to contact us for possible inclusion. You can find a link to learn about adding your site to Apparel Search from the bottom of this page.