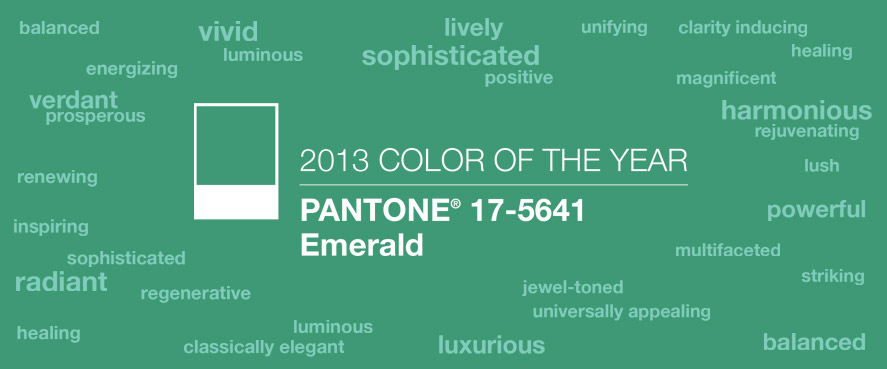 "Lively. Radiant. Lush… A color of elegance and beauty that enhances our sense of well-being, balance and harmony."
Most often associated with brilliant, precious gemstones, the perception of Emerald is sophisticated and luxurious. Since antiquity, this luminous, magnificent hue has been the color of beauty and new life in many cultures and religions. Also the color of growth, renewal and prosperity, no other color conveys regeneration more than green. For centuries, many countries have chosen green to represent healing and unity. "The most abundant hue in nature, the human eye sees more green than any other color in the spectrum," said Leatrice Eiseman, executive director of the Pantone Color Institute®. "As it has throughout history, multifaceted Emerald continues to sparkle and fascinate. Symbolically, Emerald brings a sense of clarity, renewal and rejuvenation, which is so important in today's complex world. This powerful and universally-appealing tone translates easily to both fashion and home interiors."
17-5641 Emerald captured the attention of Pantone and the world, as it became the 2013 Color of the Year.