Born on July 11, 1934, in Piacenza, Italy, Giorgio Armani is an iconic clothing designer. His popularity skyrocketed in America in the 1980s when his men's 'power suits' appeared frequently on the television series Miami Vice and in the 1980 film American Gigolo, which starred Richard Gere in Armani's signature garb.
After completing his military service, Armani dropped out of university and went to work at La Rinascente, a famous Milan department store. He then joined the staff of Nino Cerruti as a designer. With the encouragement of his friend Sergio Galeotti, Armani started to do freelance design work for other companies as well.
Armani and Galeotti became business partners, founding Giorgio Armani S.p.A. in July 1975. The company's first collection, a men's clothing line, debuted that year. Armani launched a women's collection the following year, which received a warm reception.
While his designs were popular in Europe, Armani didn't make a big splash in America until 1980. His clothes were worn by actor Richard Gere in the film American Gigolo (1980, which helped generate a lot of interest in Armani.
In the 1980's and beyond, wearing Armani became a symbol of success for many business professionals. Men had especially sought out the brand's "power suits." With demand high, Armani and Galeotti were able to grow the business, opening up Armani stores in Milan. Armani, however, suffered a great personal and professional loss in 1985 when he lost longtime friend and business partner Galeotti to AIDS. While some thought that the business might suffer after Galeotti's death, Armani showed the world that he was just as talented as an executive as he was as a designer.
In 2005, Armani debuted his first haute couture line.
Can you ever get enough of Armani? If you feel like this page was not fully satisfying, maybe you can get your fix from the Armani links below.
Giorgio Armani Spring Fashions
Apparel Search presents Giorgio Armani designer profiles.
| | |
| --- | --- |
| Bing Search Results: | Google Search Results: |
| | |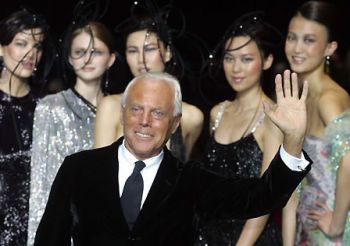 Apparel Search guide to Giorgio Armani Profiles photos, Giorgio Armani profile videos, Giorgio Armani profiles news, Giorgio Armani profile blog posts and more... If you are interested in fashion and style, you will be interested in Giorgio Armani profiles.
Visit the Giorgio Armani official website, Armani Exchange or Emporio Armani websites.
We hope that you have enjoyed learning about Giorgio Armani fashion designer profiles.
Return to the Fashion Designer section. Or search for designers by the fashion designers name.
If you are interested in doing some additional reading you can click this link to learn more about fashion designers.

Do you like Giorgio Armani Profiles?