KEVAN HALL
BIOGRAPHY
Detroit-born Kevan Hall's fashion creativity emerged early. By the age of seven, he knew he wanted to be a fashion designer. After attending Cass Technical High School in Detroit, where he studied fashion design, he won first place as "Designer of Tomorrow" - a scholarship sponsored by the Los Angeles-based Fashion Institute of Design and Merchandising. While studying in California, he made a vision-enhancing trip to Europe, where at the houses of Cardin, Dior and most notably, Givenchy his lifelong love of luxury and haute couture was once again sparked. Upon graduation from the Fashion Institute, he received the Peacock Award for Outstanding Fashion Design".
Redefining glamour for a new generation is an interpretive art. Redefining the hallowed house of Halston into the next millennium was an even more challenging task. But Kevan Hall--who stepped into the prestigious position of Design and Creative Director from fall 1998 - spring 2000 revived the dormant brand to its former glory. His sleek eveningwear was worn by a distinguished coterie of celebrated artists- including Celine Dion, Sharon Stone, Angela Bassett, Charlize Theron, and Salma Hayek.
In 2002, he launched his own signature, Kevan Hall Collection with a fashion philosophy that emphasizes purity of style, incomparable tailoring and sensuously draped streamlined silhouettes; Hall has a natural design sense of sophisticated elegance and uncluttered modern design. Hall's designs have been embraced by fashion retailers and the press. In 2001, Absolut Vodka honored Hall by showcasing his spring collection in their Tribute to African Designers worldwide tour. His lovely atelier in Los Angeles was featured in the July 2002 issue of Interior Design magazine.
It confirmed his keen eye for design and impeccable color sense. Also in 2002, Hall won the 47th Annual Gold Coast Fashion Award in Chicago as Designer of the Year. In 2005, Hall was awarded 'stylemaker of the Year by Life & Style Magazine for his drop-dead glamour as seen on the red carpet with Vivica A. Fox, Virginia Madsen, Garcelle Beauvais-Nilon,
Geena Davis, Debra Messing, Drew Barrymore and Renee Zellweger. The best surprise was when Felicity Huffman won for Best Actress in a Comedy Series at the 2005 Emmy's wearing his rouge silk gown with Swarovski crystal accents. He's the man! she said as she credited Hall for dressing her.
In November 2005, California Governor Arnold Schwarzenegger invited Hall to help promote California fashion in his Made in California Expo in Beijing, China. There he dressed California's First Lady, Maria Shriver in a dramatic black Lyon lace gown and showed his designs in the gala fashion show to the Chinese as well as international press.
In April 2006, Hall was honored to be named one of Los Angeles Treasures by the Central City Association of Los Angeles for his outstanding achievements in the community of Angelenos.
Hall has made guest appearances on national TV shows such as Inside Edition, Extreme Makeover, The Better Half, SoapTalk, the Jane Pauley Show, TV Guide's- the Fashion Team, and E! Fashion Police where he discussed fashion's current trends on and off the Red Carpet. He has given lectures at the Norman Lear Center of the University of Southern California and for the Costume Council at the Los Angeles Museum of Modern Art on his inspirations and influences when designing his collection.
With his own Signature collection, his philosophy of fashion has remained true to those early days. "I enjoy the process of design from concept to execution," he states. "But the most gratifying part is seeing a design come to life on a beautiful woman." Rejecting trends and fads in favor of a lasting signature look, Hall's hallmark of glamour with a modern sensibility is a priceless gift to the welcoming world.
Learn more at Kevan Hall Designs
View Kevan Hall Runway Show at Mercedes-Bens Fashion Week March 2007

<![if !vml]>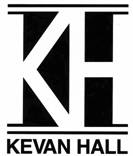 <![endif]>