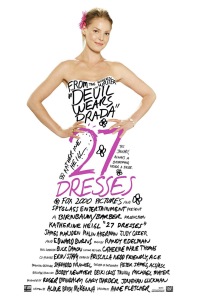 27 dresses centers on Jane (Katherine Heigl), an idealistic, romantic and completely selfless woman… a perennial bridal attendant whose own happy ending is nowhere in sight. But when younger sister Tess captures the heart of Jane's boss – with whom she is secretly in love – Jane begins to reexamine her "always-a-bridesmaid…" lifestyle.
Jane has always been good at taking care of others, but not so much in looking after herself. Her entire life has been about making people happy – and she has a closet full of 27 bridesmaid dresses to prove it. One memorable evening, Jane manages to shuttle between wedding receptions in Manhattan and Brooklyn, a feat witnessed by Kevin (James Marsden), a newspaper reporter who realizes that a story about this wedding junkie is his ticket off the newspaper's bridal beat.
Jane finds Kevin's cynicism contrary to everything she holds dear – namely weddings, and the two lock horns. Further complicating Jane's once perfectly-ordered life is the arrival of younger sister Tess (Malin Akerman). Tess immediately captures the heart of Jane's boss, George (Edward Burns). Tess enlists her always-accommodating sister to plan yet another wedding – Tess and George's – but Jane's feelings for him lead to shocking revelations… and maybe the beginning of a new life.
Learn more about Katherine Heigl at her official website.
Movie review found on Amazon.com, "Katherine Heigl is delightful as Jane, a self-effacing Gal Friday so addicted to organizing weddings in her off time, that 27 Dresses opens with her character juggling two nuptials on the same night. A perpetual bridesmaid, Jane's hobby is discovered by a matrimony reporter named Kevin (James Marsden), who hides a romantic side behind his wall of cynicism. While Kevin gradually develops feelings for Jane, the latter's superficial sister, Tess (Malin Akerman), pursues George (Edward Burns), Jane's boss and the object of her love. This romantic circle could go on forever, except that Jane is unexpectedly moved by Kevin despite her general irritation with him and without knowing that he's on the verge of sandbagging her with a ridiculing article in his newspaper. The situation is absurd, but the emotions are not. Heigl is very good, rooted in a long tradition of comely comediennes playing characters who fly under the radar of life. She makes Jane's pain palpable and conveys her character's inability to say no without making her look unappealing or weak. Marsden perfectly captures the part of a rumpled, underdressed writer with repressed passions, Akerman is as convincingly shrewish here as she was in The Heartbreak Kid, and Burns is fine as one of those guys so busy saving the world he barely pays attention to the people in his life. The script by Aline Brosh McKenna (The Devil Wears Prada) is fun if predictable, and Anne Fletcher's direction is vibrant. --Tom Keogh"
an view other fashion relevant movies from the links below.
Garmento
Fashion DVD's
Fashion Designers DVD's
Clothing DVD's
fabric DVD's
Thank you for using the Apparel Search website.