Garmento
Fashion is a glamorous industry of beautiful people, right? GARMENTO tells the other side of the story through a dark and comical look beneath the seams of NYC's rag business. Industry insider Michele Maher reveals an absurd world where shady dealings and ruthlessness are fashionable, setting the trend for corporate America.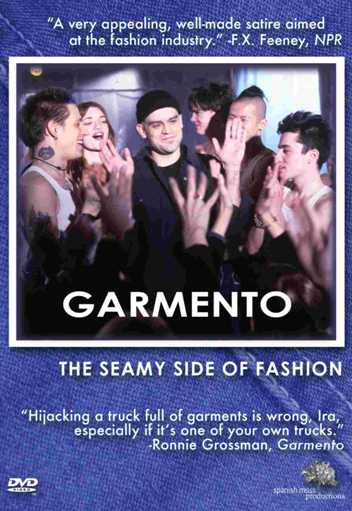 Coco Before Chanel: Audrey Tautou (The Da Vinci Code, Amélie) shines in this intriguing portrait of the early life of Gabrielle Bonheur Chanel, the orphan who would build a fashion empire and be known universally by her nickname, Coco. She journeys from a mundane seamstress job to boisterous cabarets to the opulent French countryside, possessing little more than her unwavering determination, unique style and visionary talent. Also starring Benoît Poelvoorde (In His Hands) and Alessandro Nivola (Junebug). Featuring lush settings and stunning costume design, Coco Before Chanel is the gripping and dramatic story of an icon who defied convention and defined the modern woman.
The Devil Wears Prada
A naive young woman comes to New York and scores a job as the assistant to one of the city's biggest magazine editors, the ruthless and cynical Miranda Priestly.
27 Dresses centers on Jane (Katherine Heigl), an idealistic, romantic and completely selfless woman… a perennial bridal attendant whose own happy ending is nowhere in sight. But when younger sister Tess captures the heart of Jane's boss – with whom she is secretly in love – Jane begins to reexamine her "always-a-bridesmaid…" lifestyle.
Zoolander
Male supermodel Derek Zoolander is on his way down after three years of continuously winning the "Male Model of the Year" award. When he is beaten by the hot newcomer Hansel, Derek starts searching for a new meaning in his life. Just then fashion czar Mugatu offers Derek a comeback in his new "Derelicte"-line. What nobody suspected is that Mugatu plans to assassinate the new Malaysian Prime Minister on his visit to New York, so that cheap child labor is still available for Mugatu's fashion producing. By brainwashing Zoolander, Mugatu and his evil associate Katinka create a dumb and willing killer to do the job. Only in Time Magazine journalist Matilda suspicion arises slowly, and she tries to stop Derek.
Head over Heels Amanda has not had the best luck with men. Recently she went home and found her boyfriend "with" another woman. She moves out and moves in with four models, who when they are not modeling, are partying. She also bumps into a guy named Jim whom she is attracted to but is unwilling to pursue out of fear that he will either dump her for someone better or has some quirk. And it doesn't help that his apartment is right across from her and she spends her time staring at him. When he asks her out, she decides to take a chance but one night while watching him she sees him kill someone. She then calls the police who cannot find anything. She decides to follow him to find out what he did with the body. When she can't find anything she goes out with him and spends the night with him but the next day the woman's picture appears in the newspaper and goes to confront him about her and discovers that she didn't die she is a secret agent and was discovered
Raising Helen : Helen Harris is living the life she's always dreamed of: her career at a top modeling agency is on the rise; she spends her days at fashion shows and her nights at the city's hottest clubs. But her carefree lifestyle comes to a screeching halt when one phone call changes everything. Helen soon finds herself responsible for her sister's children: 15-year-old Audrey, 10-year-old Henry, and 5-year-old Sarah. No one doubts that Helen is the coolest aunt in New York, but what does this glamour girl know about raising kids? The fun begins as Helen goes through the transformation from super-hip to super-mom, but she quickly finds that dancing at 3a.m. doesn't mix with getting kids to school on time--advice that Helen's older sister, Jenny, is only too quick to dish out. Along the way, Helen finds support in the most unusual place--with Dan Parker, the handsome young pastor and principal of the kids' new school--and realizes the choice she has to make is between the life she's always loved and the new loves of her life.
You Don't Mess with the Zohan : Zohan, the finest counterterrorist agent the Israeli army has. That is, until he fakes his death and travels to Manhattan to live his dream...as a hairdresser. Now this skilled fighting machine who used to clip bad guys is out to prove he can make the cut as a top stylist. All goes silky smooth until his cover is blown when he's recognized by a Palestinian cab driver (Rob Schneider). Now, The Zohan must fight to live a peaceful new life in New York in this razor-sharp action-packed comedy from Adam Sandler, Robert Smigel, Judd Apatow and Dennis Dugan.
Find additional fashion videos:
You may also want to read our fashion movies summary page and the TikTok fashion page.
If you prefer to read instead of watching movies or television, you may also find the following topics of possible interest:
Thank you for using the Apparel Search website.