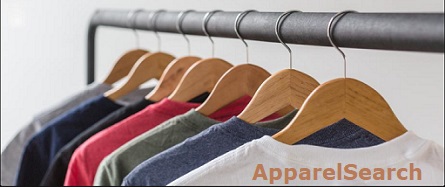 A & H Hangers (China): they are one leading manufacturer and exporter of clothing hangers in China. Address: 2nd Gangwan Rd., Wuhu China Email: anhjz@sohu.com & ahangers@hotmail.com, tel no: 86-553-3304990 fax no: 86-553-3824821 Contact: Jason, Director
Manufacturer Item # 1: wooden hangers
Manufacturer Item # 2: plastic hangers
Manufacturer Item # 3: wire hangers
---

Beverly Coat Hanger Co., Inc.: Beverly Coat Hanger Co., Inc. is one of the industries preeminent producer of wooden garment hangers since 1915. Their leadership has been achieved and is maintained through their ability to consistently provide their customers with the absolute finest quality product and by their ability to successfully support their customers with punctual delivery, innovative design and outstanding customer service. Their unwavering product quality is derived from continuous investment in modern state of the art equipment and their retention of highly skilled craft personnel. Their prestigious clientele require flawless quality, and that is exactly what they deliver. Address: 1215 Fairfax Avenue San Francisco, CA 94124 Phone# 415-550-0105 Fax# 415-550-6405 E-mail: Veronica@beverlyhangers.com Contact: Veronica Oropeza
Manufacturer Wood Hangers

Manufacturer of Plastic Hangers
---

Butler Hangers: their factory makes a full range of wooden and metal hangers. By full range, they mean not only many styles and types of hangers, but also from the cheaper quality levels up to the very finest quality levels possible. The only limit is your imagination. They are very competitive and give extremely high levels of customer service. You will never wonder what is happening with your order. Used in hotels, retail stores and homes. Sales are wholesale to distributors. No sales to public. Please contact them by email. Address 2nd Floor 234 Des Voeux Road, Central, Hong Kong Phone Fax E-mail sales@butlerhangers.com Contact name Marketing Department
Metal Hanger Manufacturer

Wooden Hanger Manufacturer
---

Eisho Hanger (China): EISHO CO., LTD. was established in 1988, and specilized in wooden cltohes Hangers, wood pant/skirt Hangers, wooden children Hangers, tie/belt/sarf Hangers, metal Hangers, metal pant/skirt Hangers. All the products sell well in Japan, Korea, Europe, North America, Australia and so on.
---

Excelsior Trading & Mfg. Co.: They are in this field since 1971 and are well experienced to
answer buyer's queries. Kindly contact them for further information. Address: 212 A, A-Z Industrial Estate, G.K.Marg, Lower Parel, Mumbai India 400013. Phone: +91-22-4927444 or +91-22-4914715 Fax: +91-22-4963773 Email: etmc@vsnl.com Contact: Mr A Thakur
Manufacturer Item # 1: Plastic Hangers
Manufacturer Item # 2: Wooden Hangers
Manufacturer Item # 3: Suit Covers
Manufacturer Item # 4: Lingerie Hangers in Satin
Manufacturer Item # 5: Other Custom Made Accessories in Bulk
---

FYFurniture (China): Established in 1996,Shenzhen Fengyuan Trading Co.,Ltd has been dealing in Rattan Furniture, Garden Furniture. They also supply wooden hangers.
---

Hangers PLUS with headquarters in Coopersville MI. Hangers PLUS has an extensive line of products and as a member of VICS. They offer a complete line of products that meet and exceed the VICS standards, serving multiple locations. They own their own facilities and manufacture the products that they sell. They are approved hanger supplier for several clothing stores. They provide tops hangers, bottoms hangers, outerwear hangers, suit hangers, intimates hangers and accessories.
Manufacturer Plastic Hangers

Manufacturer of Wood Hangers
---

Guilin Jason Bamboo & Wooden Product Ltd.: Guilin Jason Bamboo & Wooden Product Ltd. Is located in Guilin---well known for its beautiful sceneries in the world. It was formed in 1999, and it manufactures house & sports ware, especially for various kinds of hangers. Their focus is the customer and quality. Based on high quality of their product, most competitive price and their good service for several years. Their capability raises to more than 15 million hangers with 8 hundred various kinds of items per year. Their main markets are Europe, Northern America, Eastern Asia and Oceania . They are the private enterprise and they obtained the exporting license in June 2004. So, they can export & ship independently. If you are interested in our business proposal, please don't hesitate to contact us at your earliest convenience. . By the way, they welcome all kinds of OEM projects and custom- designs. Address: No.33, Xicheng road, Guilin, Guangxi, China 541002 Phone 86-773-2156033 fax 86-773-2825093E-mail: jasonhangers@yahoo.com.cn or henry@jasonhangers.com Contact: Mr. Henry Yi
Hanger Manufacturer

Wooden Hanger Manufacturer

Plastic Hangers Manufacturer

Wire Hangers Manufacturer
---

Guilin Sunmarco Hanger Factory (China) they are one of the professional manufacturer of hangers initiated from 1996 in Lipu county Guilin, where is the largest production base of wooden hangers in China. -Annual output of their factory is 8 million pieces (20,000 pieces/day) and more than 50 styles are made. Wooden hangers and metal hangers are their main products. -Now they have set up an International sales department for direct business between you and them. They can offer you a great many of hangers, all are in great quality and best price. Address: 1-11-4,JinHui Plaza, Huan Cheng Xi 2 Road, Guilin, China P.O. box: 541002 Tel: +86 (0)773 3156189 change to: +86 (0)773 3818660 Fax: +86 (0)773 5807429 change to: +86 (0)773 3818815 E-mail: info@sunmarcohanger.com Contact: Mr Kingto Loo
Wooden Hanger Factory

Metal Hanger Factory
---

Hangers Direct: Hangers Direct is a division of International Hanger which was founded with a singular purpose, providing the best solutions for all your hanging needs. From great basics to simple solutions they offer the finest products crafted from the best materials. With over 300 styles, the company offers the largest selection of clothes hangers in wood, metal, plastic, fabric, cedar, and eco-friendly bamboo. They are a leading provider to retailers, distributors, closet companies, hotels, fashion houses and residences. As one of the largest hanger suppliers in the United States, Hangers Direct is able to offer great savings with our competitive, factory-direct pricing. They are also able to accommodate all levels of volume purchasing commitments. They offer in-house logo options with fast turnaround time and extensive custom capabilities to create your perfect hanger.
---

Winsun Hanger : GuiLin WinSun Hanger Co., Ltd is a professional clothes hanger export enterprise. They also is a professional manufacturer engaged in the research, development, production, sale of clothes hangers . They have theirr own wooden hanger factory who located in Putao Industrial Park, Yangshuo County, Guilin City, Guangxi Province。Ours factory was established in 2000.
In this fashion industry directory you will find links and information about international clothing hanger companies. If you are sourcing hangers for your garments, you can find the appropriate factory here.

Where can you buy hangers?
Copyright © 1999-2022 Apparel Search Company. All Rights Reserved.