You can visit the Amazon Hair Care section for hair care products.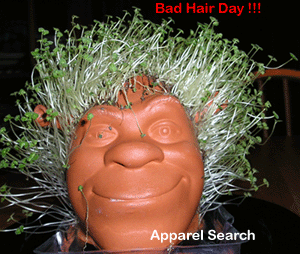 Hey, if you are a fashion industry hair stylist or makeup artist, you are welcome to join the Fashion Industry Network.

Artist United : Artist United is a full service agency representing artist both nationally and internationally.
---
Carole Hayes Management (United Kingdom) : Carol Hayes Management is one of London's leading agencies representing only the best hair stylists, makeup artists, still life, interior and fashion stylists in the industry. They provide artists to a wide range of clients, from the catwalks of some of the world's top fashion shows to editorials, store catalogues, brochures and celebrity movie premieres.
---
Celestine Agency : based on Santa Monica, California with satellite office in Seattle and sister office (Art House Management) in New York, the Celestine Agency continues to be a leader in the fashion and beauty industries.
---
Cloutier Agency : at the Cloutier Agency they represent hairstylists, makeup artists, wardrobe stylists, manicurists. They offer a complete service for advertising agencies, production companies and the fashion industry. They specialize in hair, makeup, grooming, and stylists.
---
Crystal Agency : based in Los Angeles California, the Crystal Agency represents makeup and hair stylists, fashion stylists, manicurists and photographers who work in the fashion, beauty and entertainment industries.
Hair Stylist & Makeup Stylist Agency
Photography Agency
---
Fred Segal : As a dominating force in Hollywood, Fred Segal Beauty takes pride in representing skilled, professional and personable artists dedicated to their craft. Their agency represents hairstylists, make-up artists, fashion stylists, costume designers, nail care specialists and body artists for all events and productions including feature films, television, print, commercials, music videos, celebrity appearances and fashion shows. As the "go-to" agency for the entertainment and fashion industries, they approach their work with honesty and passion and, as such, have become the standard for their industry.
---
Jed Root : is a New York based agency that provides leading fashion photographers, stylists, and hair and makeup artists, to various clients within the fashion industry. The artists represented by Jed Root, Inc. contribute to projects including advertising campaigns, editorial photo shoots and fashion shows. Founded in 1989 in New York, the agency offers true global representation to its artists with offices in New York, Paris, London and an affiliation with Kohno Management in Japan that provides the company's services internationally.
---
Joe Management (Joe Straus) : Joe manages a team of artists whose work is featured in magazines like Vogue and Harper's Bazaar. Based in New York. Joe Management, based in New York City, represents a select group of the fashion industry's most prominent makeup artists, hair dressers and stylists. Joe Management's artists regularly collaborate with the industry's top creative talent to produce some of the most visually arresting editorial and advertising in the U.S., Europe, and Asia as well as runway looks in New York, Paris, and Milan.
---
http://www.judyinc.com/ Judy Inc. : hair and make up artist agency.
---
http://www.karleeartist.com/ Karlee Artist Management : Maleeza Korley owner of Los Angeles based Karlee Artist Management represents hair and makeup stylists and fashion stylists
---
http://www.koko-represents.com/ Koko Represents : they represent makeup artists, stylists and photographers from Los Angeles, San Francisco, Chicago and New York.
---
http://www.markedwardinc.com/ Mark Edwards : based in New York City, Mark Edwards Inc., is a specialized agency in fashion photographers, fashion stylists, hair and makeup artists, manicurists and production services.
---
meloryJohn is an agency that represents hair and makeup artists as well as photographers across all gamuts of the commercial photography industry: from bridal, lifestyle, fashion and beauty; to still-life, architecture and design. Artists include: Robin Hill; Scott Teitler; Sid Hoeltzel; Tony Gajate; and Sophia Lenore; Diana Chibas-Slagle; Nikol Johnson; Robert Steven M. Their goal is to really listen to their clients; to fully understand and recognize their unique and individual needs; and produce only the best results by turning the ordinary into something extra-ordinary. Address: 21597 Casa Monte Court, Boca Raton, Fl 33433 561.416.7280 (office) 561.416.7492 (fax)
---
http://www.mjp-artists.com/ MJP Artists: they provide personalized representation to a select group of photographers, makeup artists, models/talent, and designers throughout the world"
---
See Management, Inc.: Their company works directly within the fashion industry as a talent management company representing hairstylists, makeup artists, manicurists, fashion stylists, art director and a casting director. They provide full service production for their clients and work with every major fashion publication and many of the world's leading designers including Marc Jacobs, Anna Sui, Ralph Lauren and BCBG. Address: 307 Seventh Avenue #1607 New York, NY 10001 Phone: 212.255.2500 Fax: 212.255.2020 info@seemanagement.com contact: John Shegda
---
http://www.studioperformance.net/ Page 28 (Canada) : Toronto based agency representing makeup artists, hair and clothing stylist, fashion photographers and manicurists. As a visual media group, they have worked with television, music, fashion and editorial print industries.

Did you know that their is a hair stylist and makeup stylist group at the Fashion Industry Network? Well, it is true. You can check it our for yourself at the Fashion Industry Network - stylist group.