You can visit the Amazon Hair Care section for hair care products.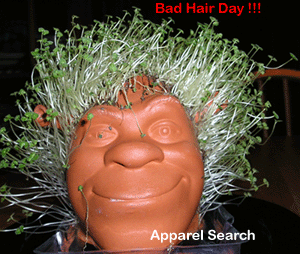 Hey, if you are a fashion industry hair stylist or makeup artist, you are welcome to join the Fashion Industry Network.

Artist United : Artist United is a full service agency representing artist both nationally and internationally.
---
Carole Hayes Management (United Kingdom) : Carol Hayes Management is one of London's leading agencies representing only the best hair stylists, makeup artists, still life, interior and fashion stylists in the industry. They provide artists to a wide range of clients, from the catwalks of some of the world's top fashion shows to editorials, store catalogues, brochures and celebrity movie premieres.
---
Celestine Agency : based on Santa Monica, California with satellite office in Seattle and sister office (Art House Management) in New York, the Celestine Agency continues to be a leader in the fashion and beauty industries.
---
Cloutier Agency : at the Cloutier Agency they represent hairstylists, makeup artists, wardrobe stylists, manicurists. They offer a complete service for advertising agencies, production companies and the fashion industry. They specialize in hair, makeup, grooming, and stylists.
---
Crystal Agency : based in Los Angeles California, the Crystal Agency represents makeup and hair stylists, fashion stylists, manicurists and photographers who work in the fashion, beauty and entertainment industries.
Hair Stylist & Makeup Stylist Agency
Photography Agency
---
Fred Segal : As a dominating force in Hollywood, Fred Segal Beauty takes pride in representing skilled, professional and personable artists dedicated to their craft. Their agency represents hairstylists, make-up artists, fashion stylists, costume designers, nail care specialists and body artists for all events and productions including feature films, television, print, commercials, music videos, celebrity appearances and fashion shows. As the "go-to" agency for the entertainment and fashion industries, they approach their work with honesty and passion and, as such, have become the standard for their industry.
---
Jed Root : is a New York based agency that provides leading fashion photographers, stylists, and hair and makeup artists, to various clients within the fashion industry. The artists represented by Jed Root, Inc. contribute to projects including advertising campaigns, editorial photo shoots and fashion shows. Founded in 1989 in New York, the agency offers true global representation to its artists with offices in New York, Paris, London and an affiliation with Kohno Management in Japan that provides the company's services internationally.
---
Judy Inc. : hair and make up artist agency.
---
Mark Edwards : based in New York City, Mark Edwards Inc., is a specialized agency in fashion photographers, fashion stylists, hair and makeup artists, manicurists and production services.
---
meloryJohn is an agency that represents hair and makeup artists as well as photographers across all gamuts of the commercial photography industry: from bridal, lifestyle, fashion and beauty; to still-life, architecture and design. Artists include: Robin Hill; Scott Teitler; Sid Hoeltzel; Tony Gajate; and Sophia Lenore; Diana Chibas-Slagle; Nikol Johnson; Robert Steven M. Their goal is to really listen to their clients; to fully understand and recognize their unique and individual needs; and produce only the best results by turning the ordinary into something extra-ordinary. Address: 21597 Casa Monte Court, Boca Raton, Fl 33433 561.416.7280 (office) 561.416.7492 (fax)
---
See Management, Inc.: Their company works directly within the fashion industry as a talent management company representing hairstylists, makeup artists, manicurists, fashion stylists, art director and a casting director. They provide full service production for their clients and work with every major fashion publication and many of the world's leading designers including Marc Jacobs, Anna Sui, Ralph Lauren and BCBG. Address: 307 Seventh Avenue #1607 New York, NY 10001 Phone: 212.255.2500 Fax: 212.255.2020 info@seemanagement.com contact: John Shegda
---
http://www.studioperformance.net/ Page 28 (Canada) : Toronto based agency representing makeup artists, hair and clothing stylist, fashion photographers and manicurists. As a visual media group, they have worked with television, music, fashion and editorial print industries.

Did you know that their is a hair stylist and makeup stylist group at the Fashion Industry Network? Well, it is true. You can check it our for yourself at the Fashion Industry Network - stylist group.

Stylo NY : Stylo NY is the new Internet based booking service that lets you pick from some of the hottest hairstylists, colorists, massage therapists and make-up artists NYC has to offer! Their beauty industry professionals are available to visit you at your home or office; they can also provide services like bridal makeup, prom and bride hairstyles, and therapeutic massages in your own home or hotel room! It's as easy as 1, 2, 3… register, find your hairstylist, makeup artist or massage therapist and make an appointment. It's that simple! Bridal Makeup, Prom Makeup, Makeup Lessons, Bridal Hairstyles, Prom Hairstyles, hairstyles at home, Therapeutic Massages & other type of massages in NY. Address: 349 east 78 street #4a phone:646-342-1757 Contact : Tuval Mor
---
Tara Correll Represents : A Seattle based boutique agency representing Hair & Make-Up, Wardrobe Stylists and Prop Stylists in the Pacific Northwest and Los Angeles, specializing in the commercial photography, film and television industries. Address: 1934 10th Ave. West Seattle, WA. 98119 Phone: 206-851-9627 tara@taracorrell.com Contact: Tara Correll
---
Utopia : For more than 10 years, Utopia has represented some of the finest talent in the areas of photography, hair, make-up and styling. With a full-time staff producer, they also provide end-to-end production. Their core philosophy has always been to balance the two components of a successful career in this industry, namely editorial and advertising. Utopia is also unique in that they maintain a high talent-to-agent ratio. Utopia has and will always be a boutique agency focused on providing talent and clients with the highest level of attention possible.
Talent Roster:
Photographers: Andrew Soule, David Gubert, Dennis Golonka, Dider Gault, Dominique Palombo, Elliston Lutz, Jon Moe, Marili Forastieri, Olivia Graham, Peter Buckingham, Timothy Kolk, Todd Marshard, Viki Forshee
Hair/make-Up: Elsa, Ildiko, Jessica Tarazi, Miki Mori, Olive, Richard Cooley, Robin Schoen, Roland Brummer, Timothy Johnson
Stylist/art Directors: Giuseppe Pizzuto, Jacqueline Palombo, Karin Berreson, Keith T. Pollick, Liz Cowan, Luis Rodriguez, Sofia Odero
---
Zenobia Agency: Founded in 1986, Zenobia Agency, Inc. represents talented, experienced artists for print advertising and editorial, TV commercials, music videos, feature films, press junkets, fashion shows, tours, speaking engagements and special events. Their services include hairstyling, make-up, special effects make-up, manicuring, wardrobe and prop styling, food styling, set decoration, location scouting and production.