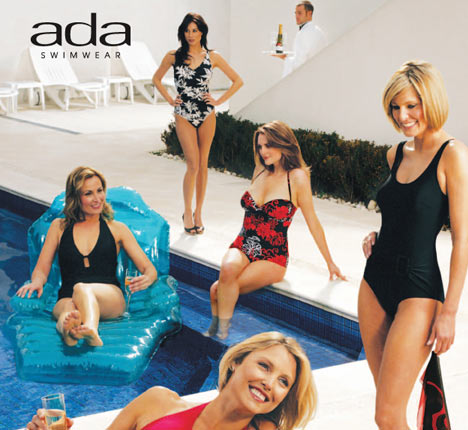 ADA Swimwear (Australia): ADA Swimwear - Shop online for sexy designer swimwear. Australian swimwear manufacturer and retailer since 1972. ADA swimwear is a true celebration of the female form with a unique experience for every woman. Address: 98 Commercial Drive, Thomastown, Victoria, Australia. 3074 Phone: +61 3 9466 4144 Fax: +61 3 9 466 4934 Email: information@adaswimwear.com.au Contact: Paul Peterson
They also own Watersun.
SWIMWEAR BY ADA

Australian icon brand established in the 70s, Ada today is popular for its superior fit, outstanding quality & up-to-minute style.
Collections combine the latest fabrics, colours and prints to create modern silhouettes influenced by emerging international trends.

Since the late 1950's the Ada brand has been synonymous with great fitting swimwear. Swimwear that fits women, of all ages.

Our print designs and fabric selections have been the corner stone of our business, over many years. Concentrating on producing structured swimwear, that is both fashionable and pleasing to the eye.
- "Ada Contour Suit – A slimmer, thinner you, instantly…!!!"
This superior fabrication has four (4) way stretch, it's light, soft and supremely comfortable creating the perfect body contour and a natural firmness all over. The high elastane content ensures that this high performance fabric has the capabilities to stretch and recover, which helps to embrace and flatter the body's natural curves, creating a slimmer, firmer outline for every body shape.
The ada collection will create a unique swimwear experience for every woman. With influences from Europe, the Watersun collection is uniquely tailored to the Australian market through prints, colours and styling, always remaining true to the Watersun image.
Carnival of colour from a lush green forest to warm sunshine yellows, glimmering gold highlights, as well as core shimmering plain colours to merchandise back with the Watersun collection. Botanical influences with a mixing of textures and colours, as well as using different fabrics to achieve unexpected effects. Desert contrasts of warm and cool tones, exotic and wild prints and trims, a glamorous oasis. Rich colours and textures, opulence and fine detailing, textural finishes and superb exclusive designs.
Key features of the swimwear season collection include:
- Removable cups feature highly throughout the swimwear collection
- Tie backs for maximum adjustability
- Dyed to match linings for added hanger appeal
- Glamorous high quality unique European trims to compliment the swimwear
- Key plain stories in key colours for the season that merchandise back with prints throughout the collection
- Key prints for the season compliment the colours and trims for the season
- Superb swimsuit fits with improvements made on key Watersun styles
- Each Watersun swimsuit is finished off to the finest detail
- Less stories with more styles to offer variety
- New swimwear styles and more superbly engineered one pieces swimsuits as well as fashionable tankini's and tops for larger cup sizes
- A harmonious refined swimwear collection which can be merchandised in many ways through colours, prints and styling
You may also shop online to buy watersun swimwear. You will also find online bikini swimsuits, tankini swimwear, tankini swimsuits, or the latest monokini swimsuits. Our one-piece swimwear, and onepiece swimsuits are super sexy and indulgent. We offer bikini separates swimwear where you shop by tops and then select your bottom from a range of bottoms. To complete the look match your swimsuit with a cover up in the same print, or be daring and match with cover-ups of other styles. Our beachwear coverups, and accessories ensure your distinctive sophisticated look. If you shop by plus size swimwear or plus size swimsuits you will find exciting new styles that offer sexy coverage. Plus-size swimwear and plus-size swimsuits are available in Watersun and ADA. Our range of bikinis, and tankinis have sizes from size 8 (xs) to 20 (xxxl).
We have a wonderful collection of maternity swimwear, maternity swimsuits, chlorine resistant swimwear, chlorine resistant swimsuits, mastectomy swimwear, fashion swimwear, fashion swimsuits.
Women's Swimwear Wholesaler: Watersun
Women's Swimwear Stores: ADA Swimwear
Australia Fashion Industry: ADA Swimwear
ML8108