Bealls and Bealls Outlet stores located in Florida, Georgia and Arizona and the BeallsInc.com, BeallsOutlet.com, BeallsFlorida.com and Bealls.com websites are operated by Beall's, Inc. with headquarters in Bradenton, Florida.
BeallsTx.com and Bealls stores located in other states are operated by Specialty Retailers Inc. with headquarters in Houston, Texas.

Specialty Retailers Inc. and Beall's, Inc. are not affiliated.

In 1915 Robert M. Beall, Sr., age 22, opened a dry goods store in Bradenton, FL on the banks of the Manatee River. At that time the pioneer town had a population of just over 3,000 people. Beall wanted to spend his entire investment of $2,500 on stock, so he over-turned wooden packing crates that his goods arrived in and used them for display tables! Nothing was priced over $1.00, so he named his store The Dollar Limit.
With the inflation that followed World War I, prices increased and in 1918 he changed the name of the store to the V (Five) Dollar Limit. As his business grew he bought property and built a larger store a few blocks away on Manatee Avenue. During the Depression, he lost his store to the bank, but continued to operate it. In 1940 he was able to repurchase the company.
In 1940, Robert Beall's son, E.R., joined the family business after graduating from the University of Florida. In 1946, after serving in the army, E.R. rejoined his father. That year they changed the name to Beall's Department Store. Robert Beall ran the original downtown store until just a few months before his death, at age 86. The old store continued to operate until 1987 when it was torn down for new construction. The proceeds from the sale of the building were used to establish the R.M. Beall, Sr. Foundation which supports youth and education.
It was E.R.'s vision that began the company's expansion into the shopping centers that served the middle income retirees who were flocking to Florida. In 1956 the second store was opened in Bradenton and the third store followed in Venice, FL in 1961.
In 1970, E.R.'s son, Robert M. Beall, II (Bob) joined the business after completing his military duty and earning an MBA at New York University. The three generations were active in the company until Robert, Sr. died in 1979. In 1980, when Bob Beall assumed the presidency, the chain had grown to $38 million in annual sales.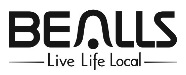 In 1986, Bealls established a 401K plan that enables employees to purchase company stock as one of the investment options. Bob Beall believed it was important for employees to be able to own company stock and share in the growth of the company. Today many of Bealls' employees are stockholders.

In 1987 they created the Beall's Outlet chain of stores. Chairman E.R. Beall conceptualized the new model in response to the growing number of outlet malls in Florida. In 1992 Beall's opened an Outlet store in Arizona, its first store beyond the state of Florida. In 2011 the Outlet chain has grown to over 450 stores in 14 states.
In 2011, Bealls exceeds a billion dollars in sales annually with over 535 stores and on www.beallsflorida.com. They are the destination of choice for lifestyle right and priced right apparel and home merchandise.
In 2015 Bealls includes over 535 stores.
In 2015 Bealls launched a new store concept called Bunulu. You can learn more about the Bunulu coastal lifestyle fashion store on our fashion blog.
Learn more about Bealls Florida at the Beals Florida website and learn more about the company at the Beals corporate website.