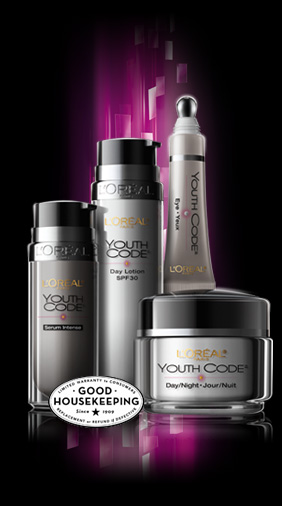 Crack the code to younger acting skin.
Their innovation is the result of a unique collaboration between independent scientists and L'Oreal Paris, a global leader in beauty. The collaboration has ushered in a new era in the understanding of skin behavior and how it is affected by age. Studies influenced by the science of genes have enabled their researchers to better understand the skin's behavior in response to external aggressors, such as UV rays, pollution, and free radicals.

L'Oreal has determined that when put under stress, certain skin genes linked to epidermal recovery are activated. This activation is know as "gene expression".

Older skin takes longer to respond to gene expression compared to younger skin. As we age, skin responds more slowly and takes longer to recover.

GenActive Technology™ is a proprietary combination of ingredients that increases the regenerating efficacy of your daily skincare.

GenActive Technology™ is specially formulated with Biolysat (responsible for regeneration) and Adenosine (responsible for anti-wrinkle action).
Learn more at L'Oreal Paris.

Read fashion news from June 2011.

You may also want to read about the Studio Line Beauty Products by L'Oreal Paris 2011 which we posted as a Beauty Article on March 25, 2011. In addition, you may wish to read the following beauty news articles:

Gorgeous On The Go Beauty Artilce about L'Oréal Paris
Beauty Article Posted October July 30, 2010

L'Oreal Paris Beauty Article April 2010
Beauty Article Posted October April 8, 2010

Read more Beauty News Articles here on Apparel Search.

2011 Fashion Articles Archive 2010 Fashion Article Archive 2009 Article Archive