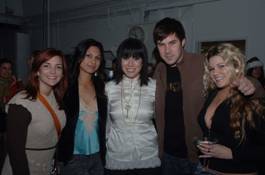 Driven by her passion to redefine the concept of fashion trade shows, Ronda Walker devised a plan to create POOL, a show infused with style and substance that wasn't like the rest. POOL is the alternative to the cold, impersonal shows the first show launched in 2001 with fresh and established designers sharing one hip, upbeat space. DJs spin and drinks flow during the day at POOL while buyers walk the show, at night the parties truly begin on Las Vegas famed Strip. POOL focuses on working hard and playing hard. The POOL concept is simple connecting buyers to brands while breathing life and energy into the complete experience. Every season POOL is right on the pulse of what's next in the world of fashion and art, redesigning their look to reflect the changing aesthetic. Growing and constantly evolving, POOL remains true to their mission of changing the face of the fashion trade show. Stay tuned for the February 06 launch of a brand new design with all-new booths, various private arena shapes and geodesic dome designs! POOL 10 will be held February 20-22 at Mandalay Bay and feature over 600 exhibitors collections in approximately 500 booths.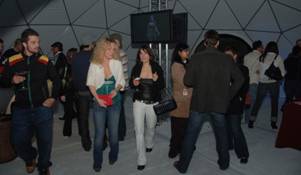 POOL trade show unveiled their spacious new headquarters in Silver Lake on December 14 with their POOL Party, celebrating the upcoming POOL 10 in Las Vegas. Designers, buyers, stylists, editors and other fashion elite partied the night away to the sounds of DJs Peanut Butter Wolf, Rocking Funk, Soul & House, Goatnutz, Aztechsol, and Shipbot 3000. Many cocktails were enjoyed from Dubonnet, Function, and Peroni, while Ed Hardy provided their structured water for refreshment. Guests also snacked on delicious snowflake cupcakes from Sweet Cake throughout the night. The look and feel of the POOL trade show is replicated in the new office space, and a dome was set up outside for the celebration to complete the atmosphere.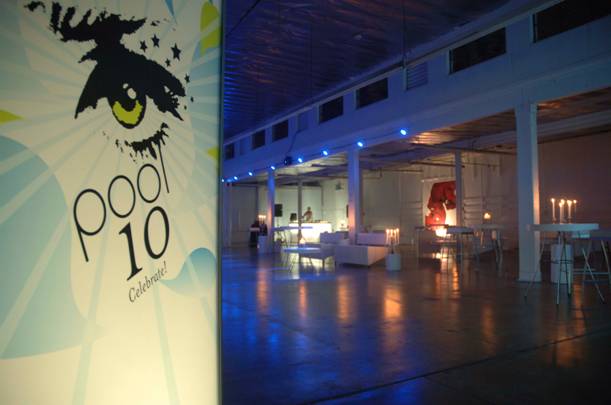 Special thanks to: Lounge 22, Kajmere Sound, Stones Throw, Swindle, Filter Magazine, Guitar Center, Ed Hardy Structured Water, Function Urban Detox, Sweet Cake, Peroni, Dubonnet, Digital Sound Production Services, Apparel Search James, Patty Faye, The Raven, 4100 Bar & Zanzabelle.