<![if !vml]>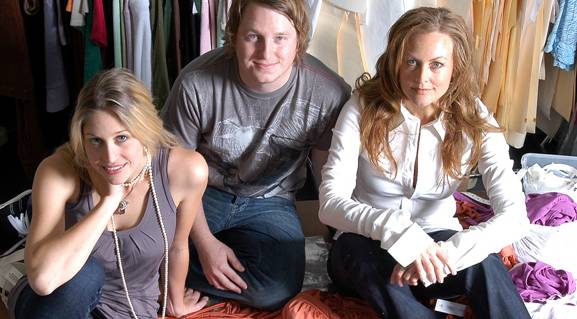 <![endif]>

The most challenging aspect of launching and growing a fashion brand is connecting with the media and creating enough buzz to attract a following. For decades the model has remained pricey, out of reach, and unchanged until now.
A Los Angeles based team of savvy professionals have a simple mission: revolutionize the public relations industry. Utilizing Web 2.0 technology, trend insight and targeted public relations expertise, three young entrepreneurs have launched Buzzflikr, cutting edge PR that doesn't take itself too seriously. Buzzflikr is a co-op for media exposure that promises to take the sting out of PR.
Buzzflikr is a collaborative online forum for media exposure, marketing and brand building. Utilizing technology developed for social networks and blogs, this option is affordable due to a self managing concept, aiming to level the playing field for media relations efforts. Media reps can access online news, company profiles and product images from emerging fashion brands. Members will set PR goals and be guided to create an effective PR campaign to meet them, giving their budding brand the visibility needed to flourish.
We conceived Buzzflikr as an incubator for emerging brands and fashion creatives, explains CEO Debra Stevenson who heads up the collaborative threesome of innovators including technology guru, CTO Daniel Scally and media relations professional, CCO Amanda Newlin. This co-op model provides a compelling middle ground between self-directed media outreach, which can be daunting to novice startups, and the cost prohibitive retainers charged by traditional PR firms, added Stevenson.
Not surprisingly, this innovative model was conceived at Fashion Business Inc., where the founding Buzzflikr team teaches seminars and provides support for its members. Frances Harder, founder and president of FBI, is enthusiastically endorsing the endeavor. Buzzflikr was realized due to a real need in the market that we see everyday with our members: an affordable and effective public relations alternative. It is now a real option because the right team is in place to facilitate this revolutionary marketing tool to make it effective for both emerging brands and media professionals. Harder excitedly adds, This is just one more vital service the FBI can refer to its members to ensure their growth and success.
Scally, who recently completed FBI's newly redesigned website, has spent months developing the Buzzflikr platform. By invitation, a handful of FBI member brands have been invited to test the site's functionality and upload interface during the beta phase, going live in time for February Market Weeks. Incorporating the best of hands-on media pitches and insight with the benefits of today's technology creates a highly effective PR campaign for brands, and a fresh easy way editors can see what's hot and new,
explains Newlin.
Learn more about Buzzflikr at their website.