In 2009, theSUTRA by Ruchika Jain will diversify her fashion line by collaborating with rising design stars in India and will look to expand into the European market. The "sutra" is a Sanskrit word meaning "to sew," and theSUTRA's mission is to serve as the thread that connects buyers to designers to producers. This business move will provide American buyers with a direct connection to the emerging designers earning substantial credibility in their native countries.

India is credited for inspiring major fashion houses with ethnic trends in recent seasons.
It was an absolute pleasure to see Alexander McQueen and other designers showcase fabrics and jewelry that I grew up with,
said Jain.
I am always inspired to transform the fabrics, textures and rich colors of India to fit the modern women's wardrobe.


Jain is already in communication with designers gracing the covers of reputable Indian fashion publications including Femina. TheSUTRA's production facility, New Delhi-based Master's Apparel, currently serves up to ten apparel design companies and is proudly 100% labor-regulation compliant. Thus, American buyers can expect short lead times, craftsmanship in details as many embellishments are hand-stitched, and ease of reordering and fabric availability.

Meanwhile, theSUTRA's Spring 2009 Collection will be available this August, and current samples for open-to-buys are available for order fulfillment.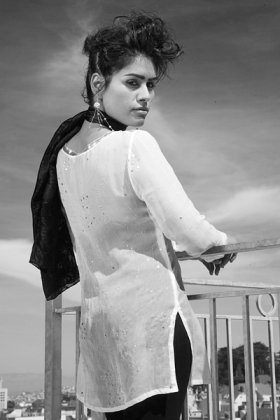 Learn more at www.altitudepromotion.com