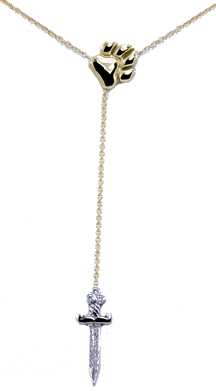 On August 5th, a press conference was held in Tokyo for the Mummy 3 promotion. A birthday cake was presented to Michelle during the news conference, a day prior to her birthday (August 6). Japanese actress and singer Manami Kurose, who performs the Japanese version of the end title song for the film (Japanese title: "Hamunaputora 3"), sang "happy birthday" for Michelle. The cake was decorated with an image of the "Eye of Shangri-la".
To complete her outfit Michelle wore a dagger necklace in 18kt Gold and Diamonds by Pantera (www.panterajewels.com) retail $1,950 which is a traditional symbol of power especially in ancient Egypt and China very appropriate for the fabulous star of Mummy 3.
Co-star Brandon Fraser joked Happy 19th birthday, it's been well done! After licking cake off his fingers, Fraser told reporters that he was an especially happy man. I am the luckiest man in Japan to be sitting between the two most beautiful women in existence, he said as an amused Yeoh and Leong looked on.