New York City, Milan, Paris, London; we expect amazing jewelry to come from the great centers of design. When it comes to the jewelry company Liz Henry, however, these great centers of design can now include Mississippi.
Liz Henry Jewelry has grown leaps and bounds in the 9 years since designer Christi Gardner started making jewelry on her kitchen table in Mississippi. She quickly outgrew the kitchen and unable to handle the number of orders flooding her fledgling business, Christi's sister Julie Clark was brought in to help. Their design studios have grown along with the company and their current design studio is attached to the Liz Henry flagship retail store, where Christi and Julie still hand make their jewelry. The Liz Henry line is sold in over 300 specialty boutiques and gift stores across the country as well as the designer's website, www.lizhenryjewelry.com.
The name Liz Henry is a combination of Christi's middle name, Elizabeth, and her beloved dog, Henry. As in the combination of these names Liz Henry jewelry mixes femininity with individuality. Each piece has a unique twist, whether it is the use of colorful stones and mixed metallics, or whimsical charms that are often included. Nature obviously plays a large role in the design process, from equestrian style pendants to animal charm necklaces. The fall collection also features a large presence of gilded leaves complemented with the rich jewel tone and faceted stones that will be so in demand as the weather turns cooler. In this case, Mississippi is certainly a source of inspiration.
Liz Henry also offers personalized jewelry for their customers, including hand stamped sterling silver or 14K gold fill discs. Birthdays, anniversaries, and many other special occasions can be customized with birthstones, names, initials, and dates. Personalization is a key aspect of the entire line; the delicate pieces have a feminine charm that feels one-of-a kind and very personal.
That personal feeling is carried over into the creative process. Christi and Julie still hand choose from the finest materials for every necklace and pair of earrings. Materials include semiprecious stones, freshwater pearls, 14K gold fill and sterling silver.
For October, Julie and Christi have turned their attention to the important issue of Breast Cancer Research. They have designed and hand crafted three signature Breast Cancer Research necklaces. The necklaces are their most recent step towards fighting Breast Cancer, having designed custom jewelry for customers in the past. The necklaces will be available on the website for the month of October and 20% of the proceeds will be donated to the Susan G. Komen foundation.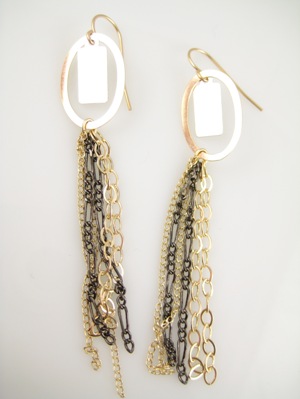 The Liz Henry Jewelry designers are committed to providing the best in southern service and design aesthetic, with the quality and style of the most international, cosmopolitan jewelry designers. Their sincere love of jewelry and desire to serve every customer with the best personal piece makes for a fabulous business plan. The fashion capitals may have great design, but Jackson, Mississippi has Liz Henry.