"Style is more than fashion" is the motto of JOANNA MAXHAM current collection of luxury Italian handbags that bring together great style and function for active, urban women. The brand has set up headquarters in New York, to bring their modern‐classic handbags to America.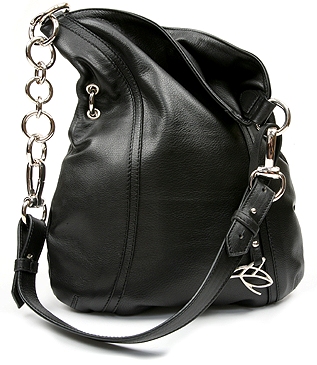 The Spring‐Summer 2008 JOANNA MAXHAM collection is made up of two lines. Graceful, simple and convertible Tulip represents the first line inspired by shapes and names of flowers. This line is composed of feminine, yet functional handbags that can be used throughout the day and "dressed up" for an evening. The second line represented by "The H" briefcase or the "U" shopper provides a stylish alternative to everyday work bags.
Natalia Pearce, one of the brand's early customers agrees: Without a doubt the best handbag I bought in years. I love the feel of the exquisitely soft leather. I love the inside finish. I love the comfort, quality and practicality of it! Thank you for designing such beautiful bags. I am looking forward to your next collection!" Stylist, Joanna Maxham left a career in international marketing to start her own line of elegant accessories. She partnered with a small, esteemed atelier in Italy to draw on their over 30 years experience in crafting unique products. Joanna has lived in the US, Poland, France, Switzerland, and in Russia. Her extensive travels and the diversity of personalities she met have greatly influenced and shaped her designs and the vision for her company. Joanna's goal is to offer to modern women, beautiful, stylish, and at the same time functional leather accessories. All items in JOANNA MAXHAM collection are crafted in small quantities, out of carefully selected leather and with superb attention to detail all in mind to make the customers feel elegant and exclusive. Learn more about JOANNA MAXHAM handbags.