The Spring Summer 2009 collection features silhouettes that are minimal and bold yet hang gracefully to create an overall elegance that is both edgy and timeless. Farahbella places high regard on the fit and comfort of the clothing, prototypes are repeatedly reviewed to ensure a flawless fit. After searching extensively for new fabrics and to find the quintessential manufacturer, that fit their ideal of high quality. Their latest collection is an impressive showcase of exclusive prints and exquisite silks such as chiffon, twills, crepe de de chines, and georgettes. In contrast to the soft fabrics, the rigid patterns create unique silhouettes and flattering shapes. Overall, the design process focuses on simplicity while maintaining an acute attention to detail down to the placement of every seam and line.
Spring Summer 2009 Delivery: February - March 2009 Order Closing Date: October 15, 2008
Farahbella will be exhibiting the SS2009 collection at "Rooms Tokyo", Yoyogi Stadium, Tokyo, Japan

September 9, 10, 11, 2008 Booth : Area 2-82 For an appointment, please send an email to: info@farahbella.com For additional information on Rooms and pre-registration, please visit Room's website at www.roomsroom.com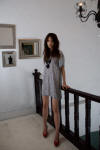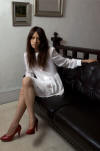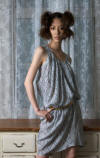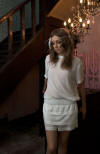 Learn more about Farahbella.
To request prices and linesheet, please send an email to: info@farahbella.com
IMPLODING VOLUMES : FALL WINTER 2008 stock is now available for immediate shipping.