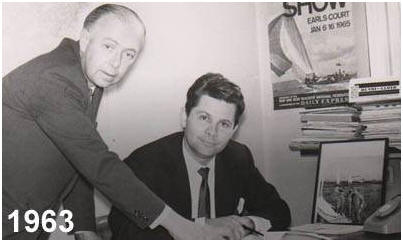 It might surprise you to learn that British clothing manufacturer Henri Lloyd was actually a soldier in the Polish army. Strange right? Then in 1946 he was awarded medals by both the Polish and British armies. They don't say that on the label. And once the Second World War had ended Henri settled in Manchester where he studied textiles and design before creating the clothing company we all know as Henri Lloyd. Well that's not that's not the perception of Henri Lloyd I have so I was compelled to do a little research.
After creating a name for himself Henri realised sometime in the early 60's that technical fabric Bri-nylon had potential and formed Henri Lloyd Limited in 63'. He pioneered the first non-corrosive zip and used Velcro rather than a form of varnishing to water-proof his jackets.
These innovations meant that Henri Lloyd was the outfitter of choice for the extreme explorer. In 1966, Sir Francis Chichester became the first man to circumnavigate the globe and in 79' Sir Ranulph Fiennes completed the first round the world journey using the poles. Both men wore Henri Lloyd.
Since then Henri Lloyd has diversified into other markets and now successfully attracts a wider demographic than just explorers. Most notably the range of clothes they called Henri Lloyd Black Label which was collaboration between Massimo Goggi and Henri Lloyd. This range was so successful that they were awarded Fashion Brand of the Year in the UK and showing that Henri Lloyd isn't just a success when they are making extreme winter ware.
Although I was surprised to find out that Henri Lloyd continues to back explorers. In 2006 they once again backed Sir Robin Knox-johnson - the first person to sail around the world non-stop alone - in the Around Alone Ocean race which sees competitors circumnavigate the globe only stopping at five ports. They also backed Emma Richards the first British woman to complete the Around Alone in 2003 and helped her to become the national symbol she is today.
Then in 2010 they launched their Blue Eco campaign which marked the start of Henri Lloyd's journey towards reducing their environmental impact. The idea is that customers return their used clothes to one of Henri Lloyd's offices and the fabric is recycled into new highly durable polyester fibres to bring new life to old but still precious resources. It reduces the huge carbon footprint that is requires to make new polyester.
Which marks the conclusion of my investigation. Henri Lloyd is far from the working class youth that I associated them with and their commitment to explorers and sustainability is refreshing. You can find more out about Henri Lloyd from any of the links below and if the mood takes you perhaps buy some recyclable clothes as well.
Henri Lloyd Resources:


Official Site

Henri Lloyd (UK)

Henri Lloyd Footwear

Here on Apparel Search you can learn more about Fashion in many various ways. Certainly, one way is to read fashion news articles.
If you have suggestions on ways that we can improve this page, please do not hesitate to let us know.
Read more fashion industry news archive from 2011:
February 2011 Fashion Articles
April 2011 Fashion News Articles
June 2011 Fashion Article Archive
July 2011 Fashion Article Archive
August 2011 Fashion Article Archive
September 2011 Fashion Article Archive
October 2011 Fashion News Article Archive
Read more fashion articles from 2010: 2010 Archive Fashion Articles
Read more fashion articles from 2009: 2009 Archive Fashion Articles