According to TMZ, The Chairman of BCBG has been accused in a lawsuit of being a "narcissistic braggart," a liar and a cheat, and it's all over a business venture to get Walmart to hock Playboy condoms.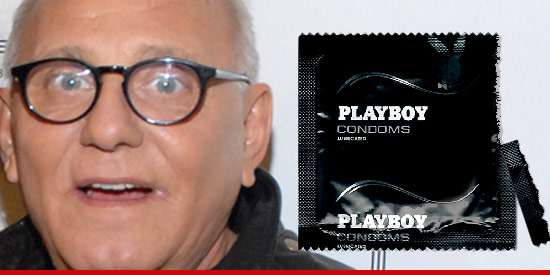 According to the suit, obtained by TMZ, BCBG Chairman Max Azria made a deal with a dude named Jimmy Esebag, who had deep ties with Playboy, to market condoms.

Esebag claims in his lawsuit Azria blatantly lied to him by saying he could move any mountain he wanted to make the venture work. The lawsuit claims Azria said, "I have a relationship with everybody. I am Max Azria. People are happy to have lunch with me. Anybody in America. Even the President of America ... I can sell anything to everybody."

But the suit claims what Azria COULDN'T deliver on his promise to get the condoms on Walmart shelves, partly because some BCBG's clothing lines allegedly contained dangerous levels of lead ... so the suit claims Walmart was gun-shy about doing business with him.

Esebag also says Azria misrepresented BCBG's financial health ... by failing to disclose 42 tax liens and the fact that the company had a junk credit rating and more than 100 lawsuits. Oh, and the suit also claims Playboy wouldn't give Azria the right to sell the rubbers.

The suit, filed by attorney Bryan Freedman, alleges various forms of fraud, but the most entertaining part of the lawsuit alleges statements made by Azria.

-- " I am the owner of this company. Only God and me. We have to talk."
-- " I want to tell you $2,000 is the tip that I give to restaurants..."
-- "The money is nothing. If he need a million dollars, I give him a million dollars."

Apparently the deal fell through, and now Esebag wants $220 million -- what he claims he could have made if Azria was honest.

BTW, Azria filed a similar lawsuit 3 years ago, claiming he was the victim.

The source of this news is TMZ: BCBG Chairman Sued for $220 Million Over Playboy Condoms
Read more fashion news articles from 2012: January 2012 Fashion Articles
Read more fashion industry news archive from 2011: 2011 Archive Fashion Articles
Read more fashion articles from 2010: 2010 Archive Fashion Articles
Read more fashion articles from 2009: 2009 Archive Fashion Articles