It's never too early to get a head start on style. At least, that's what Carolina Lamb was thinking when she was struck by the idea to create her own line of fun and fabulous swimwear for little girls.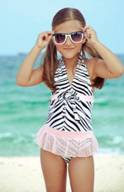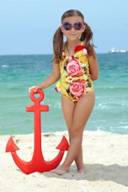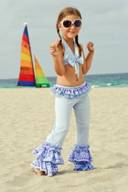 The New York native who had relocated to Ft. Lauderdale was enjoying her role as a new mom and spending most of her afternoons at the beach. The only gray cloud was dealing with the ugly, uncomfortable, stick-to-your-skin wet bathing suits that she had to wrestle off her baby girl to change her diaper.
There must be a bathing suit out there for little girls that's glamorous, she thought, something practical to wear but interchangeable enough to express their personalities. When months passed and she failed to find such a suit, she decided that the only thing left to do was to create one.
"The one pieces have optional snaps at the bottom. Little swimmers can easily run to the bathroom or change quickly without having to struggle," says Carolina Lamb, mother to now 6-year-old Luccia. "She's my inspiration for the entire line. When she was in diapers, getting her into and out of a bathing suit was a nightmare. Then as she got older, her bathing suits would always get sand in them. It was hard to get out without taking the suit off altogether!"
With the practicality of the suits taken care of, Carolina's next step was design.
"I believe that a person's beauty shines from within and I want the clothing that I design to enhance and emphasize each girl's individual style," said Lamb.
Decked out with lively floral in the Rose group, sparkling paillettes in the Bubble collection, fun Zebra prints, and a great selection of solids in vibrant red, happy yellow, pretty pink, cloudy blue, and dandelion white, the Lamb Glam line revels in its girlie and feminine nature making a strong statement that tutus are definitely proper poolside attire.
The collection is available in sizes from 2T to 6X and silhouettes include the Bikini, the one-piece Peekaboo with the cutout on the sides, the Crisscross Halter one-piece, and the plain Halter One Piece. Lamb Glam also offers cover ups with culotte pants, tulle skirts, dresses and snuggle-worthy terry and satin robes. Everything is made in the USA and retail prices range from $40-$95.
Fans have described the line as "whimsical" one mother commented that her daughter "thinks we're playing dress up whenever we're going to the pool. Her Lamb Glam suit is her favorite thing in her wardrobe!"
Lamb Glam will continue to expand the line after their Miami Swim Week debut in July 2012. They have plans for a full line of accessories including beachbags, hats, towels and sandals.
ABOUT CAROLINA LAMB
This "mompreneur" has charisma and energy for days—so it's no wonder she took to her equally lively and creative daughter as her fashion inspiration. Her debut Lamb line, Lamb Glam, is just the start of a series of women's clothing and accessories she plans to release.
For more information on the line or to purchase, please visit www.lambglam.com
Read more fashion news articles from 2012:
Read more fashion industry news archive from 2011: 2011 Archive Fashion Articles
Read more fashion articles from 2010: 2010 Archive Fashion Articles
Read more fashion articles from 2009: 2009 Archive Fashion Articles