Internationally distinguished haute couture designer Mandali Mendrilla is dedicating her newest atelier collection "Slave2Love" (S2L) to her husband who died in a car accident in January.
Croatian born New York (USA) based stylist, designer and artist Mandali, who has several award winning collections to her credit, was working on S2L when an auto accident took the life of her husband Elisha Nitai Drury, 31; who was an artist, visionary, director of the Krishna Kitchen and founder of non-profit Food for Life Experience.
Mandali says that S2L is an "expression of the fragile nature of the human form versus the eternality of indwelling spirit". "Inspired by Chuang Tzi's butterfly metempsychosis and the eternal wisdom of the ancient scripture Bhagavad-gita, the fluttering organic hand painted cloth expresses a longing for attainment of undying worlds within", she adds about S2L.
This new collection, which was originally scheduled to be premiered at the Fall/winter 2012 Fashion Week, was instead silently launched on her website www.mendrilla.com on her late husband's birthday, April 29, and is now available for viewing as art.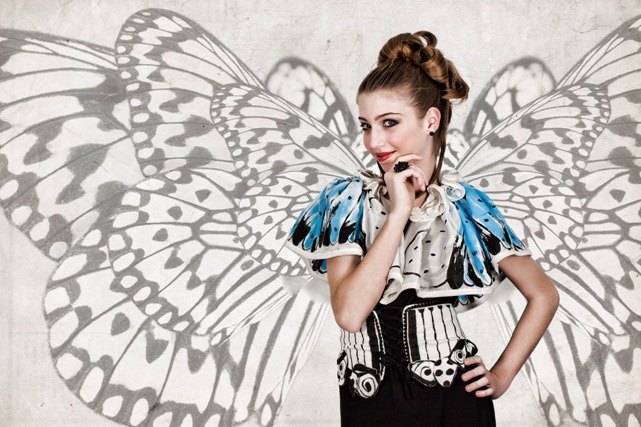 Meanwhile, Hindu statesman Rajan Zed, in a statement in Nevada (USA) recently, applauded Mandali for exploring ancient Hindu civilizations and reinventing ancient Indian dressing codes and artistic traditions for her collections and getting inspiration from Sanskrit epics. Creating clothing lines appeared to be a spiritual exercise for her, Zed, who is President of Universal Society of Hinduism, added.
Mandali Mendrilla points out that she has dedicated her artistic abilities to the pursuit of truth and beauty. She thinks that humans can use clothes to help communicate, explore, enhance and discover their inner selves rather than consider dressing as an external act. She has already exhibited her work in Italy, Croatia, Germany, USA, India and United Kingdom.
Keeping with the spirit of her dedication, Mandali will not exhibit for the remainder of 2012 but will serve blessed vegan food in her husband's legacy project Krishna Kitchen.
You can discuss this fashion article, fashion designers, or simply learn more about fashion on G+.
Read more fashion news articles from 2012: January 2012 Fashion Articles
Read more fashion industry news archive from 2011: 2011 Archive Fashion Articles
Read more fashion articles from 2010: 2010 Archive Fashion Articles
Read more fashion articles from 2009: 2009 Archive Fashion Articles