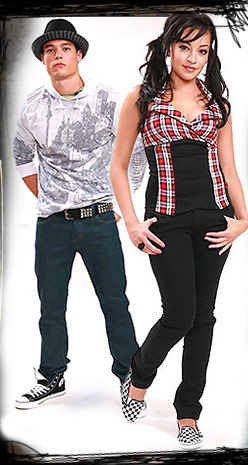 It all started in 1988. Guns N' Roses, Def Leppard and Bon Jovi were #1 on the charts, and hair scrunchies, bolo ties and aviator sunglasses were everywhere. A ton of junior accessory and apparel chain stores filled shopping malls, but there wasn't a cool accessory store for both guys and girls. Then came Hot Topic. In the fall of 1989, Hot Topic opened its doors in Westminster, California.
They would love to tell you it was a huge success, with hundreds of teens clawing their way into the store, but that is not the true story. Sales were disappointing at first. Some days they barely made a hundred bucks. Was founder Orv Madden's vision doomed? It was time to take a step back and re-evaluate. First, their location in the mall wasn't the best. How the heck could they sell anything if nobody could find them? Then they looked at what was selling-costume jewelry. They started buying more stuff like cross necklaces, unisex earrings and leather bracelets and got rid of hair scrunchies, men's ties and dress socks.
Hot Topic found a niche and its name was music-influenced accessories. Whether it was fingerless gloves like Billy Idol or glam metal bootstraps like Poison, music was definitely the driving force behind teen fashion. After their Westminster customers gave them a reality check, they packed their bags, moved to Montclair, California and rocked their mall with the first Hot Topic store to carry all music-influenced accessories for teens.
Hot Topic, Inc. operates two distinct specialty retail concepts: Hot Topic and Torrid.
Hot Topic's target customers are young men and women between the ages of 12 and 22 who are passionate about rock music, pop culture and music-inspired fashion. Walk into a Hot Topic store and you'll immediately feel the energy. The merchandise assortment, store environment and staff all demonstrate a passion for music.
Torrid is a sexy fashion brand targeting plus-size young women, ages 15 to 29. Torrid focuses on providing this under-served customer with her own fashion-forward alternative that features not only great style, but also high quality, personalized customer service. Inspired by an overwhelming number of requests from young, plus-size, female shoppers, Torrid opened its doors in April, 2001.
Though Hot Topic and Torrid vary in terms of their target customer and product assortment, the culture within both concepts is built upon a deep and shared commitment to understanding and serving the customer.
In 1996, with about 60 stores, Hot Topic became a publicly traded company on the NASDAQ under the symbol HOTT. The cash from their public offering allowed them to open more stores across the country.