This four day summer clearance is valid from July 16, 2009 to July 19, 2009.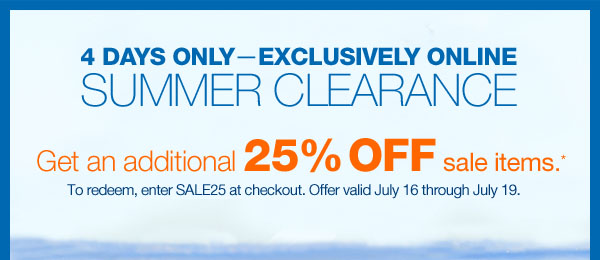 Read more news about the Gap. Learn more about The GAP and The GAP Inc.
Previous news about the Gap.
Guys T-shirts and Jeans at The GAP Spring 2009
Fashion Shopping Article Posted April 14, 2009
Here is a very old article about the GAP, if you wanted to take a step back in time to 2007. GAP Style for Summer 2007
Fashion Article Posted May 31, 2007
◊ Shopping For Women's Clothing
◊ Shopping For Children's Clothing

2009 Shopping Articles : January 2009 February 2009 Articles March 2009 News April 2009 News Articles May 2009 Fashion Articles June 2009 Fashion Articles July 2009 Fashion Articles
Check out our new clothing guide.
You may also like to view the fashion designers guide.

Shopping For Children's Clothing