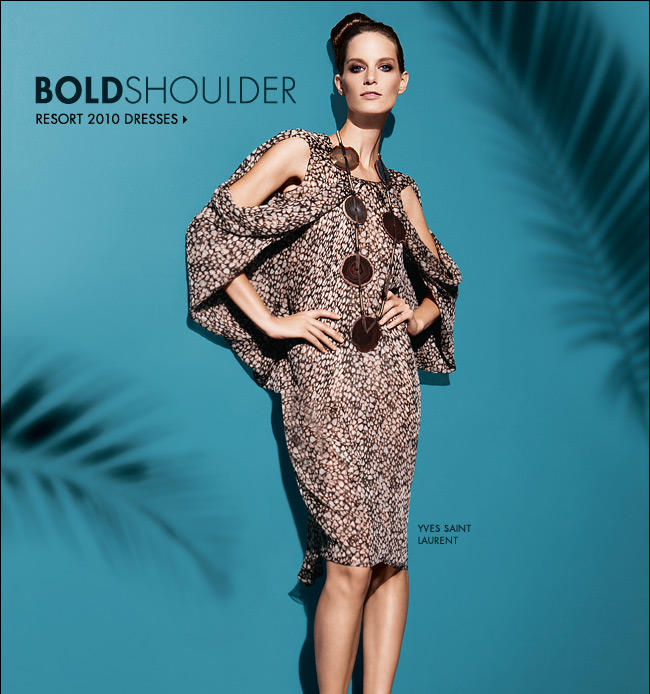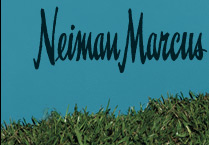 You can purchase resort wear now for the 2010 season at Neiman Marcus. We think you will simply adore the Yves Saint Laurent collection. The collection features the fabulous dress pictured above. Imagine this Concentric Stone Necklace & Fold-Over Draped Dress in your wardrobe.
Fold-Over Draped Dress: NMF10_B0YSD
Brown/multicolor seashell print.

Round neckline.

Oversize batwing sleeves; fold-over cutout detail.

Pleated front and back.

Extended back hem.

Silk.

Made in Italy.
Concentric Stone Necklace: NMF10_B0YSE (this item can be pre-ordered)
Learn more about Yves Saint Laurent.
Visit the Neiman Marcus website..
Read more news about Neiman Marcus:
Women's Apparel Sale Online and In Store Neiman Marcus 2009
Fashion Shopping Article Posted November 22, 2009
Gucci at Neiman Marcus November 2009
Fashion Shopping Article Posted July 9, 2009
Shop Resort Trend Blue at Neiman Marcus 2009
Fashion Shopping Article Posted November 1, 2009
Gucci Fall Collection 2009 at Neiman Marcus
Fashion Shopping Article Posted June 23, 2009
Over The Knee Boots at Neiman Marcus
Fashion Shopping Article Posted June 10, 2009
Pre-Fall Alexander McQueen Collection at Neiman Marcus
Fashion Shopping Article Posted May 31, 2009
Vince Trunk Show at Neiman Marcus
Fashion Shopping Article Posted May 29, 2009
Juicy Handbag Looking Great at Neiman Marcus
Fashion Shopping Article Posted May 11, 2009
Bold Jewelry No Weak Links at Neiman Marcus
Fashion Shopping Article Posted May 7, 2009
Stella McCartney Fall 2009 Preview at Neiman Marcus
Fashion Shopping Article Posted May 6, 2009
Valentino Stars of the Season at Neiman Marcus
Fashion Shopping Article Posted April 27, 2009
Christian Louboutin Classics at Neiman Marcus
Fashion Shopping Article Posted April 20, 2009
Tory Burch Spring 2009 Sandals at Neiman Marcus
Fashion Shopping Article Posted April 7, 2009
Gladiator Sandals at Neiman Marcus Spring 2009
Fashion Shopping Article Posted March 20, 2009
Neiman Marcus Provides Insider View to Style : NM Insite
Fashion Article Posted March 27, 2009
Tory Burch Signature Apparel and Accessories at Neiman Marcus
Fashion Shopping Article Posted March 16, 2009
Neiman Marcus Online Shoe and Handbag Shopping Event : Free Gift with Purchase
Fashion Shopping Article Posted March 5, 2009
Ken Downing at Neiman Marcus When & Wear
Fashion Shopping Article Posted February 27, 2009
Prada Hot Off The Spring Runway : Neiman Marcus
Fashion Shopping Article Posted February 18, 2009
Shoe Trend Statement From Neiman Marcus 2009
Fashion Shopping Article Posted February 14, 2009
Neiman Marcus Presents David Meister Dresses With Perfect Fit
Fashion Shopping Article Posted February 4, 2009
Michael Kors Streamlined at Neiman Marcus Spring 2009
Fashion Shopping Article Posted February 3, 2009
Patchwork d'Orsay Footwear at Neiman Marcus
Fashion Shopping Article Posted January 29, 2009