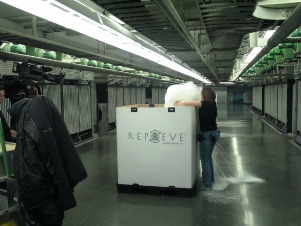 Unifi, Inc. (NYSE: UFI) announced today that Repreve, the company's 100% recycled yarn, has been selected as a feature for the international television show How It's Made.
The segment will highlight the unique production processes to manufacture Repreve, a first-quality 100% recycled yarn.
The How It's Made film crew visited Unifi's Yadkinville, North Carolina manufacturing facility to document the production of Repreve, making Unifi the first U.S. textile mill to be featured on the show. The episode will air on the Discovery Channel during season 12 (begins January 2009).
Unifi's corporate commitment to environmental sustainability and the development of eco-friendly products like Repreve attracted the attention of Robert Morselli, director of research for
How It's Made.

Global sustainability is an issue that people are becoming increasingly aware of,
said Morselli. It directly affects our communities and, ultimately, each one of us as an individual. In the corporate world, some organizations have taken the lead in promoting awareness of global sustainability by educating consumers about their product's origins and manufacturing these products in a way that ultimately benefits the environment.

I have identified Unifi and Repreve as examples of these corporate leaders; this is why we have selected them to participate in the taping of a How It's Made episode, added Morselli.
This opportunity with How It's Made is a testament to Unifi's dedication and commitment to the Repreve brand and is an excellent opportunity to further educate consumers on our recycled polyester, said Roger Berrier, executive vice president for Unifi.
About Unifi:
Unifi, Inc. (NYSE: UFI) is a diversified producer and processor of multi-filament polyester and nylon textured yarns and related raw materials. The Company adds value to the supply chain and enhances consumer demand for its products through the development and introduction of branded yarns that provide unique performance, comfort and aesthetic advantages. Key Unifi brands include, but are not limited to: aio all-in-one performance yarns, Sorbtek, A.M.Y., Mynx UV, Repreve, Reflexx, MicroVista and Satura. Unifi's yarns and brands are readily found in home furnishings, apparel, legwear, and sewing thread, as well as industrial, automotive, military, and medical applications. For more information about Unifi, visit https://unifi.com/.