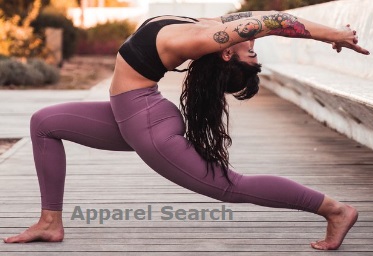 Yoga is a popular workout regime for people who are looking to gain flexibility, strength, weight loss and peace of mind. Are you ready for the downward-facing dog, extended triangle, sphinx pose, cat-cow, and more. When it comes to buying women's yoga clothing, there are several factors that make this apparel well worth the investment. First and foremost is comfort. One thing that sets yoga clothing apart from regular athletic clothing is the fit. Most yoga apparel is designed to fit very snugly but also provide good range of motion.
Find fashion clothes for Yoga from the Yoga Clothing Stores directory below.
You may have interest in the following guides:
If you can not locate enough yoga fashions on this page, you are welcome to view the Amazon database to locate additional yoga clothes. Actually, if you are visiting Amazon, you may as well check out their yoga books or yoga dvd's.
Relax, stretch, and enjoy.
Learn about Fitness Fashion in our fashion influence section.
Find the best yoga fashion boutiques & brands.

Alo Yoga: Shop the best yoga wear & accessories for yoga and working out. Wear-tested by yogis for the best fit.
---

Athleta:
---

Beyond Yoga: Shop Beyond Yoga with yoga clothes, workout apparel, and activewear designed for every woman's body. Women's pants, leggings, tops, bottoms, bras, and more.
---

Blue Canoe: Nestled in the heart of the Redwood Forests of Northern California, a young company called Blue Canoe is busy making close-to-the-body wear with a difference. Blue Canoe was founded in 1991 by CEO Laurie Dunlap and is at present the only company in the country exclusively producing body wear from organically grown cotton. Their business practices are based on a lifestyle committed to living lightly on the earth, following good sense rather than trends, supporting sustainability, recycling and non-chemical alternatives.
---

Fabletics: Find fashionable, high-quality and affordable yoga clothes for women at Fabletics. Get VIP access to our womens yoga wear & apparel.
---

FIT and Flirty: FIT & Flirty is an online boutique that caters to the fitness fashionista who loves to mix & match and create her own unique look. They offer many active wear brands and let you shop online without being restricted to one style or brand in store. This allows you to create a workout wardrobe as exclusive as you are! Address: 300-1055 West Hastings Street, Vancouver BC V6E 2E9 Canada Phone: 1-(866) 969-4699 E-mail: patrick@fitandflirty.com Contact name: Patrick Garde
---

Gaiam : they want to do more—help more, live more, be more active. Gaiam (pronounced "GUY-um"), is a fusion of "Gaia"—the name of the Ancient Greek Mother Earth goddess—and "I am." It means, roughly, "I am the Earth" and is meant to encapsulate a sense of the beautiful interconnectivity of all things. At Gaiam, they believe that by nurturing, protecting and respecting the Earth and everyone and everything that exists here, we enrich our own lives and those of future generations. Gaiam brands include Gaiam for yoga and fitness; Gaiam Restore, focused on wellness; SPRI, focused on fitness.
---

Haute Body: Haute Body offers hot yoga clothing, high quality yoga pants, unique workout wear and more for the fitness savvy woman, all at an affordable price.
---

Lolë: Lolë is an online store that offers various kinds of clothing designed specifically for women, including yoga clothes and workout clothing.
---

Lululemon Yoga-inspired athletic apparel company lululemon athletica, was founded in 1998 in Kitsilano, Vancouver - one of the healthiest places in the world - by a group of visionary athletes, in response to the exponential increase of female participation in sports and the belief that yoga is the way to maintain athletic excellence into an advanced age. In fact, the first lululemon store not only featured a design studio / retail store but also shared space with a fledgling yoga studio. Today, lululemon athletica manufactures, distributes and retails clothing via its own stores, and wholesales out to other retail stores in North America and internationally.
---

Manduka: Manduka yoga clothes for women bring superior design and performance to your practice. Shop our selection of women's yoga clothing and accessories.
---

Nike: Yoga Clothes For Women Designed to enhance your practice, Nike's yoga clothing for women is built for ultimate comfort and full range of motion for all types of yoga classes and exercises. No matter if you're a beginner or a seasoned yogi, Nike has the yoga essentials you need for your next session.
---

Patagonia: they use low-impact fabrics and just the right amount of stretch so you can surrender to the flow. Responsibly made, shop women's yoga clothing and activewear that moves with you through poses, workouts.
---

Prana wide assortment of tastefully designed yoga clothing.
---

Ripple Yogawear: Superb yoga clothing made from organic cotton & natural fabrics that breathe with you on and off the mat.
---

REI: Shop for Women's Yoga Clothing at REI. Women's sports bras, women's yoga pants, women's yoga shirts, yoga shorts, yoga jackets.
---

Teeki: Fashion with a Conscience. Created from recyced plastic bottles. They dance to a different beat, stretch with the yogi, run to the highest peaks, hike in unexplored territories, and swim where the ocean becomes one. They are teeki. They take water bottles and turn them into clothes, giving them purpose again through an eco-friendly process. This yoga clothing company supports you with your active lifestyle and adventures; yoga, gym, workout, surf, sports, dance, flow and constantly moving forward with your body, mind, and spirit.
Learn more about Yoga Clothing by reading news, viewing photos, reading fashion blogs etc.