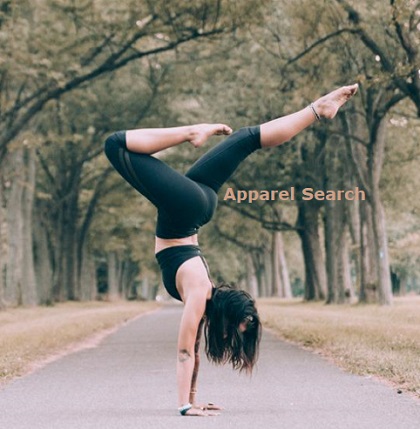 Apparel Search is a leading guide to fashion, style, clothing, glam and all things relevant to apparel. We hope that you find this Women's Yoga Clothing page to be helpful.
Be ready for your next downward dog.
Yoga is a Hindu spiritual and ascetic discipline, a part of which, including breath control, simple meditation, and the adoption of specific bodily postures, is widely practiced for health and relaxation. Yoga clothing can be worn for yoga exercise or for fashion.
Yoga clothes is often associated with a clothing categories called athleisure or fitness fashion.
Yoga is a group of physical, mental, and spiritual practices or disciplines which originated in ancient India. The clothing worn to yoga studio classes are designed for comfort, flexibility, and the practice of the fitness aspects of Yoga.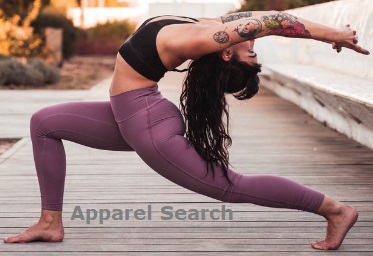 Yoga pants: yoga pants are typically made of a comfortable and breathable material, such as nylon, spandex, cotton, or lycra. Tip: Make sure the legs don't extend past your feet or else you could accidentally step on them while you're holding your poses.
Yoga Bras / sports bras: Yoga bras provide support and comfort while stretching, lunging, twisting, and hanging upside-down. The more intense the workout, the more support you will need.
Learn more about fitness tops in the fashion influence section.
When purchasing your clothes, keep in mind fabric breathability. You may sweat a little or a lot. Particularly if you're sweating a lot, it's important to wear breathable and moisture-wicking materials to keep you cool and comfortable. Keep in mind that cotton holds moisture & can make you feel hot and damp.
Flexibility is key to successful yoga positions as well as clothing. You will be bending, lunging, stretching, reaching, and possibly rolling. You should consider at least 15% spandex to help your clothing keep up with your body.
Make sure you are comfortable in your clothing. Stay comfortable both physically and mentally.
Don't get caught at yoga class with clothing that is too tight, sagging, or uncomfortable.
What ever you are wearing, is in fashion.
If you want to be even more stylish, you should wear your favorite Women's Yoga Clothing.

Women's Clothes Directory:
Have you seen our Fashion Designer Directory section?