Apparel Search is a leading guide to fashion, style, clothing, glam and all things relevant to apparel. We hope that you find this Women's Fitness Apparel page to be helpful.
Apparel is another word for clothing. Fitness is the condition of being physically fit and healthy. Therefore, fitness apparel is clothing worn while in the pursuit of physically fit lifestyle.
Women's athletic apparel is clothing that is designed with athletic activities in mind. Clothing that integrates performance and technical features for active women and girls. Women's athletic apparel can be worn for running, biking, yoga, swimming, hiking and many other sports activities. Some garments are designed for a specific activity and others are appropriate for a wide variety of physical activities.
The right athletic apparel can make a huge difference in your workout. Find the high-quality activewear you need and get ready to take your training to the next level.
Athletic apparel is clothing that is designed to be worn while working out or playing sport. Specialized athletic apparel is made for a variety of sports and physical activities. You an find women's sports performance gear for football, basketball, baseball, track, swim and every sport in between.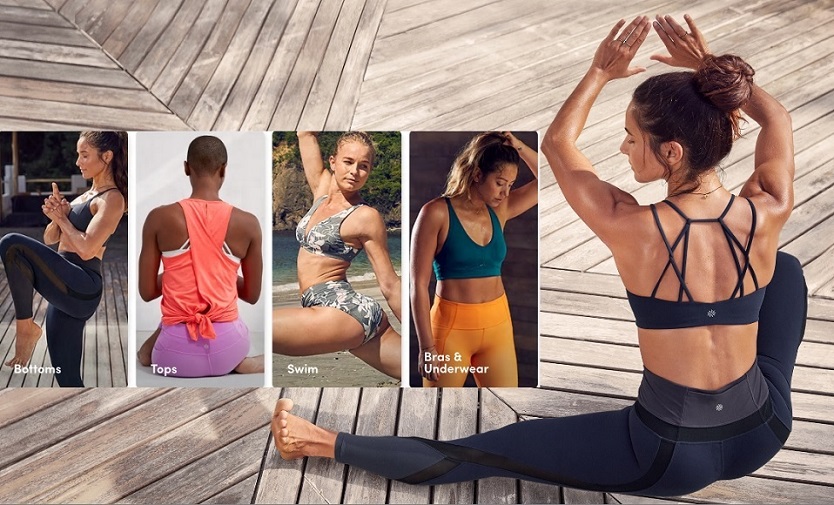 Images Above Compiled from Women's Athletic Fashion Brand Athleta.
Learn about fitness fashion in our fashion product influence section.
What ever type of athletic apparel you are wearing, is in fashion if it keeps you comfortable.
Learn about women's athleisure.
You may find interest in the following pages of our guide:
If you want to be even more stylish, you should wear your Women's Fitness Apparel.
For those of you that are interested in shopping, you may want to visit the women's fitness apparel stores or the women's yoga clothing stores section.

Sports apparel is a bit different than athletic apparel. If you are interested, you can learn about sports apparel in our fashion terms section.