>> My NFT Creations <<
NFT stands for non-fungible token.
A fungible asset is something with units that can be readily interchanged (an example being money). You can swap two five dollar bills for one ten dollar bill and it will be the same value.
A non-fungible asset has unique properties so it can NOT be as easily interchanged with something else for exact equal value.
Examples of a physical non-fungible assets would include a painting & another example being a house. Each of these items would be be one of a kind physical product.
Digital NFTs (digital non-fungible tokens) are a "one-of-a-kind" type of asset that exists in the digital world. They can be bought & sold similar to any other item. The NFT digital tokens can be thought of like a certificate of ownership. Their is a digital record of ownership that would apply to the virtual asset.
Typically a "digital file" can be endlessly duplicated. The concept here is that the NFTs (digital artwork) can be "tokenised" which creates a digital certificate of ownership that can then be bought & sold.
The record of ownership can not be forged because similar to crypto-currency, the record of ownership is maintained on a shared ledger which is known as a blockchain. The blockchain or ledger can be managed by thousands of computers worldwide which helps avoid tampering with the date within the ledger.
Can't the artwork itself still be copied & distributed? Yes, the artwork can be duplicated but the original still has ownership & authentication. The original is tracked by the block chain.
NFTs of Fashion
Fashion NFTs are non-fungible tokens created by fashion designers, fashion brands, or are simply based on fashion illustrations.
Learn about fashion illustrations & artists in the fashion industry.
Consumers, investors, technology enthusiasts and people that love fashion are interested in learning about fashion NFTs. In addition to learning, many people are actually buying NFTs with fashion themes.
Do you want to buy collectible sneaker NFTs? Sounds like a good idea.
Fashion designers, clothing brands & footwear brands are cashing in on the NFT craze.
Some of the clothing & sneaker relevant NFTs are providing physical product along with the NFT images. That is not always the case, but this has been a trend.
Bringing authenticity and exclusivity to digital fashion.
The fashion brand Dolce & Gabbana announced on September 30, 2021 it had sold at auction a nine-piece collection of digital NFTs (nonfungible tokens) alongside some actual couture for a total of 1,885.719 Ether (Ethereum cryptocurrency) which at the time had an approximate equivalent of nearly $5.7 million.
Collezione Genesi collection was hosted by luxury marketplace UNXD, which is built on the Ethereum layer 2 Polygon network. The NFT's are said to have been personally designed by Domenico Dolce & Stefano Gabbana for UNXD. The winners of each item received the NFT as well as physical versions of the items along with exclusive access to Dolce & Gabbana events as an added perk.
UNXD has also partnered with Polygon to launch a $10 million "Culture Fund" that aims to expand the use of NFTs in the fashion industry. The UNXD Culture Fund will help creators commercialize on the UNXD marketplace, and collaborate with UNXD's sister design foundry, MNTD, to create NFT collections, according to a statement from the two organizations.
Learn more about UNXD at unxd.com
Here are a few examples of the Dolce & Gabbana NFTs.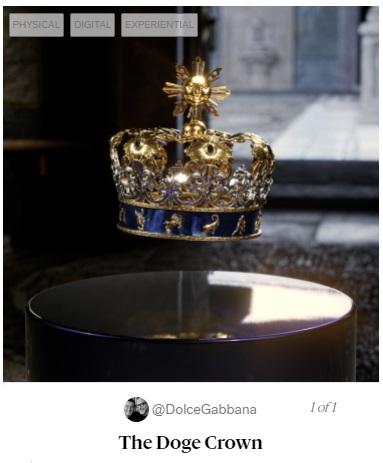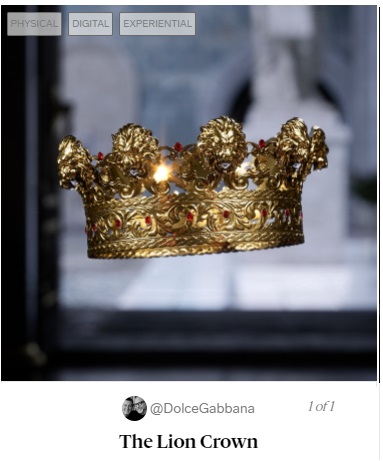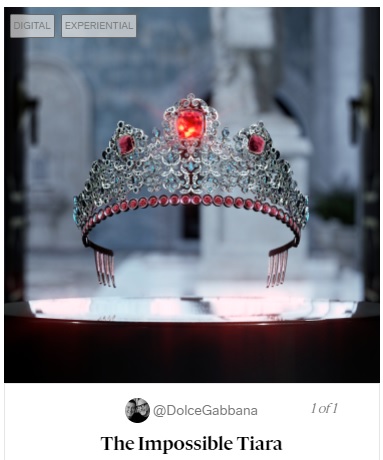 Learn more about the popular Dolce & Gabbana fashion brand at dolcegabbana.com
Fashion NFT & Sneaker NFTs are becoming a way for people to flaunt status because the non-fungible tokens are expensive. The high price is turning them into status symbols. However, it is not yet certain if these tokens will hold their value.
Will NFTs hold value, increase in value, or drop in value? That is a very good question. Here at Apparel Search we do have our guess, but only time will tell. And we are not sharing our opinion at this time. If you are planning to invest in NFTs of fashion, shoes, jewelry or beauty products, we wish you the best of luck. Similar to most investments, we strongly suggest that you only invest what you can afford to lose. Have fun, and good luck.
You may want to visit our sneaker NFT as well.
Are NFTs crafted with artisan craftsmanship?

We hope you are enjoying the concept of digital fashion. Now you can wear your favorite clothing, shoes, handbags & more in the metaverse.