3M United States Our tapes are right in your product design quick solutions that enhance product quality and add functionality. In-depth tape selection and expertise make 3M your one-stop source. Depend on us to optimize your product's performance, improve its image, and give it a competitive edge
---

AJM, Inc.: shrink wrap packaging and shrink wrap equipment for all your basic packaging needs. Overpackaging to keep items clean and neat, as well as displayed well. They sell to beginning companies thru semi-production levels. Shrink Bags are their least expensive way to get started, and they offer larger bar sealers and systems for larger volume users. Address: 1500 E. Juana Avenue Ste- W San Leandro California 94577-3931 USA Phone: 510-357-7791 or 1-800-845-6839 Fax: 510-357-7791 Email: mfrug@ajminc.com Contact: M. Frug, VP
Wholesale Item # 1: Shrink Wrap

Wholesale Item # 2: Shrink Bags

Wholesale Item # 3: Shrink Wrap Machines

Wholesale Item # 4: Shrink Packaging

Wholesale Item # 5: Packaging Equipment

Wholesale Item # 6: Bag Sealers

Wholesale Item # 7: Shrink Films
---

BP Plastics Holding Bhd. (Malaysia) they are one of the leading producers of industrial plastic packaging bags and stretch film based in Malaysia. Established in 1990, they began by supplying polyethlene bags to the garment and textile industries and today produce cast stretch film and plastic bags for industrial, commercial, logistic and warehousing usage. Today, they employ a combined workforce of approximately 280 staffs and operated more than 80 units of manufacturing machineries. The production plant located in Batu Pahat, Johor, Malaysia has a combined annual capacity of 36,000 metric tonnes.
Shrink Wrap Manufacturer

Poly Bag Manufacturer
---

Custom Poly Bag : Custom Poly Bag, Inc. is a leading manufacturer of thousands of different sizes of plastic bags. As a custom manufacturer they offer an unlimited selection of plastic bags. All of their products are manufactured to customer specifications. They are custom plastic manufacturers and wholesale packaging suppliers of Polyethylene or Polypropylene plastics, bags and shrink wrap film, printed promotional advertising products for sports and shopping gift bags.
Polybags

Shrink wrap film
---

Dynapak Plastics Inc. (Taiwan) : DYNAPAK PLASTICS INC., which was established in 1987, has 50 personnel, and its business items are mainly the production of the professional PVC Shrinkable Film. At present, the yearly output of the PVC Shrinkable Film amounts to more than 1,500 ton, and the productivity is 30 ton per person every year.
---

Glory Formosa Co. Ltd.
---

Goodwrappers (USA) GOODWRAPPERS stretch wrap products manufactured by J. C. PARRY & SONS, INC. can help you achieve this efficiency. Goodwrappers products revolve around our patented hand braking systems which offers the operator the most efficient means of dispensing handwrap on the market. The hand braking system: Protects the operator's hands from friction heat. Gives the operator total tension control with a squeeze of the hand. Provides the operator with maximum film stretch with tightest, most secure wrap in hand wrap. Wear pads are molded into the hand brakes to help dissipate the friction heat that is generated when the operator squeezes for film tension. No heat means no pain. No pain means the operator squeezes more getting the most stretch from the film.
---

Klöckner Pentaplast they offer a full range of specially-formulated films to meet your packaging, printing, and technical application needs. And the expertise to guide you to the right film for your product. They maintain this broad range of films to provide the most cost-effective solutions for you, whatever your specific requirements. As your industry faces new challenges, Klöckner Pentaplast will help you by pioneering the development of new formulations and films.
---

LPS Industries : LPS Industries is an ISO 9001:2000 Certified company and offers three separate products groups: 1) Flexible Packaging - custom laminated roll stock, custom barrier pouches, resealable polyethylene bags and zipper profiles. 2) Coated Products - pressure sensitive envelopes, pressure sensitive labels - edp, thermal, laster and prime, also adhesive coating - fullgum and pattern, hot melt and aqueous. 3) General Packaging - packaging systems and accessories, identification products, and hazardous material shippers Modern production facilities and state-of-the-art equipment assure all products are manufactured to the highest quality standards.
Shipping cartons
Polybags
Packing Tape
Shrink Wrap
---

Orion Packaging : For 20 years Orion has been in the business of protecting customers' palletized products. As a leading manufacturer of heavy duty industrial stretch wrapping technology, their goal is to provide the highest quality stretch wrapping systems in the stretch packaging industry. Orion offers the most comprehensive line of end-of-line stretch wrapping pallet packaging products available and continually set the standard for durability, efficiency, flexibility, reliability and performance. Special emphasis is placed on our advanced film prestretch system to assure the most efficient and cost effective use of every inch of stretch film. Address: 100 Crescent Drive Collierville, TN 38017 (T) 1.800.333.6556 (F) 901.365.1071
---

Papertec Inc. (USA) : PAPERTEC is proud to announce its new line of water activated kraft tapes. These tapes are some of the finest quality you will find anywhere in the world. They stock two different types of tapes. The first is the traditional water activated kraft paper, which they stock in two colors, natural and white. The second is a water activated non asphaltic reinforced kraft, which they also carry in natural and white colors. PAPERTEC also has the ability to print on each of these tapes. They have the capability to print company names, logos, instructions, or whatever your business requires. Additional artwork and plate charges may apply for certain orders. They do offer standard GCMI colors for printing, however they do restrict their tape printing orders to two colors. PAPERTEC is one of the worlds leading distributors of plugboard, specialty papers and films. The PAPERTEC family has been involved in the paper industry for more than 85 years. Through the years they have grown as a company and are able to provide their customers with the best products available.
---

Shing Fu Plastics With over 30 years of advanced technology, Shing Fu provides a highly sophisticated means in manufacture a series of PVC shrinkable materials and many other related goods. Shing Fu supply shrink film products from its headquarter base in Taiwan throught out the world. To country like Australia, Hong Kong, Japan, Singapore, United States and Middle East nations just to name a few. Their crystal clear film provides dust-free protection. Moreover, easy application and fast shrinking result which will reduce your energy consumption. Polyolefin-POF/polypropylene-PP shrink film. Their newly developed premium film which guarantees to meet your highest requirement for packaging. Specialized film such as our color-tinted are popular for seasonal gift baskets, and product-conscious customers.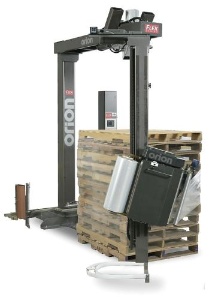 Orion's new Flex Rotary Tower stretch wrapping machines deliver high performance and efficiency, as well as long lasting durability. Both Rotary Tower models feature Orion's reliable Insta-Thread film delivery system which provides a standard prestretch rate of 260% for excellent strength and film savings
Packaging Films
PVC Shrinkable Film
PVC Shrinkable Bag
PETG Shrinkable Film
Polyolefin-POF
Polypropylene-PP shrink film
BOPP Films
CPP Films
Polyester Films
PVC Films
Nylon Films
Polyethylene Films
OPP Films
Pallet Stretch Wrap
Plastic Films
Printed Films
Shrink Labels