Pallet Informational Guide
What are pallets and how are they used in the garment industry?
Pallets are platforms or stands that are used for transportation and storage of goods. They are used particularly in industrial applications like export of clothes, shoes, or fashion accessories. There are different kinds of pallets used for different applications: rackable pallets that are suitable for multi-rack storage systems and non-rackable pallets that are suitable for heavy weight storage applications at floor level. Pallets are also categorized as static/ dynamic and light /medium /heavy /extra-heavy. Printers pallets, double-sided pallets, four-sided pallets, shuttle pallets, newspaper pallets, roll cradle pallets and reinforced pallets are the other kinds of pallets available.

Pallets can be made of either plastic, cardboard, or wood. Wood pallets are very cost- effective but have problems like fungus, nails and splinters, pests and insects. They are also difficult to dispose of, and hence, they are being increasingly replaced with plastic pallets. Light-weight thermoplastic pallets are gaining popularity because they are recyclable, insulating, light weight and environment friendly. Besides, they do not have the problem of being infested with insects. Cardboard pallets, on the other hand, are fragile and are thus not suitable for all kinds of applications.

Pallets are used for storing goods at one place and also for taking goods from one place to another, like factory to warehouse or warehouse to stores. These days, pallets are being manufactured using very advanced technologies to make them stronger and more durable. Some pallets are also insulated, which makes them ideal for storing perishables. Pallets should be ideally FDA/uDSA compliant, UL fire rated, hygienic, and easy to clean.

Pallets come in different sizes, most commonly 800mm x 1200mm and 1000mm x 1200mm. There are also many different designs that can be customized as per user requirements. Wooden pallets are priced at $8 to $10 if new and around $4-$6 if used. Old wooden pallets are either refurbished or made into wooden chips, compost, animal bedding, or landscape mulch. There are many companies that sell refurbished pallets. They also undertake repair and maintenance of the pallets. These days, pallets are also being attached with radio frequency identification technology to make tracking easier.
What can be done to keep dust off pallets?
Pallet covers not only protect the pallets from dust but also provide insulation against excessive humidity, thus lowering the chance of rusting, scratches, and corrosion. They also protect wooden pallets from insects and keep the contents of the pallets safe. They also keep the pallets separated from one another. Pallet covers are a very cost-effective alternative to cardboard boxes.

There are different kinds of pallet covers: clear, flat polyethylene, heavy duty/light duty, waterproof, disposable/reusable, etc. Pallet covers are also available in various sizes. They can also be ordered as per requirements. Pallet covers are generally ordered in bulk. Sizes range from 72 to 102 in length for short as well as tall pallets. There are also perforated covers available in the form of a roll. Some covers have pleated sides for flexibility in expansion. Some suppliers provide reusable pallet covers that are made of durable canvas, suitable for all weather conditions. These covers are also resistant to mildew and mold. Other attractions include Velcro openings for easy accessibility, draw cords at the bottom for insulation, double-thick canvas surface, etc. Pallet covers are also custom designed to suit individual requirements. They are available in different colors, as well as with personalized logos or markings on the cover for a customized look.
How do we move heavy pallets?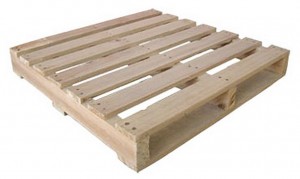 Pallet trucks are for moving pallets from one place to another. Pallet trucks make transportation of pallets easier and ease loading and unloading while ensuring safety. They can also minimize time of transport considerably. Since the pallets can be rather heavy, pallet trucks need to be very strong. Pallet trucks are generally used in chemical and pharmaceutical factories, warehouses, food storage facilities, and retail stores. Most pallet trucks can move loads of around 4000 lbs.

Pallet trucks are designed to suit all kinds of environments and terrains, including highly corrosive and unsanitary conditions. Some pallet trucks are made from zinc and stainless steel; they are chrome coated and galvanized to resist even the highly moist atmospheres of pharmaceutical and chemical factories. There are pallet trucks suitable for clean room, laboratory, wash down, and corrosive material handling applications.

There are different types of pallet trucks: low profile pallet trucks, pallet trucks with scales (for weighing loads), big-wheeler pallet trucks (for uneven floors and heavy loads), specialty pallet trucks (made of zinc or stainless steel for unsanitary environments), wheel-nose pallet trucks (for placing pallets closely in a row), ergonomic pallet trucks (for ease of operation), economic pallet trucks, "Freight-Saver" pallet trucks, all-terrain pallet trucks, foldable pallet trucks (light-duty trucks for going down narrow aisles, through doorways, and around tight corners), and electric pallet trucks (with AC drive motors, battery packs and regenerative braking systems).

Some pallet trucks also have adjustable push rods, a wide turning radius, a skin adaptor, and an integral scale. There are some highly advanced pallet trucks that contain a printer, an LCD display, and a keypad with auto-tare functions that work on rechargeable batteries.
You may also want to learn about forklifts.

How do we store numerous cartons of clothing?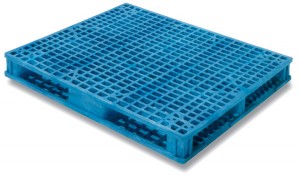 Since cartons of clothing can be crushed if pilled too high, product cannot be piled directly upon each other to an extreme. Pallets are preferred; the pallets can be stored upon each other, thus minimizing space considerably. Pallet storage, is often done under controlled temperature and humidity. The conditions will depend on the warehouse or other storage facility that you select. Pallets can also be loaded or unloaded using special lifts and trucks, thus minimizing damage to the goods. It is possibly better to use battery-powered pallet movers, as fumes from gasoline can affect the goods.

Some things to be considered for pallet storage are the size of the storage, the structural design, the environmental control mechanism, the management of the pallets, and so on. Storage sizes vary greatly according to the kind of product. Smaller bins are preferred for perishable goods since the turnover is faster. While considering the structural design, pay attention to the strength of the floor and walls and the forces on the roof system from wall pressure. The pallets and the pallet racks should be moisture resistant and well insulated. Sanitization should be easier.
Where do we keep the full pallets?
Pallet racks are the stands where pallets can be stored. Each rack can effectively hold hundreds of pallets, depending on the size. Pallet racks are excellent for managing space within a warehouse or a store.

There are different kinds of pallet racks: pushback pallet racks, selective pallet racks, pallet flow racks, reel racks, double-deep selective, carpet racks, seismic racks, bolt connection racks, boat racks, empty pallet storage racks, mezzanine racks, custom/combination racks, die storage racks, structural racks, drive-in pallet racks, and drive-through pallet racks.

Every industrial application or area has different pallet rack needs. Hence, these can be custom designed as per user specifications. Pallet racks can be designed using CAD system design. Some of the things useful for designing a pallet rack system are a study of the user requirements, the floor plan, and the kind of pallets that need to be accommodated. The main steps in designing a pallet rack are to determine the length and depth of the pallet; determine the load depth, load width, and load height of the largest load; determine the front-to-back depth of the uprights as well as the beam width; check the beam and frame capacities and the beam spacing between the beams as well as from the floor to the first beam. Other things to be considered while buying a pallet rack are the frame depth, frame height, beam length, anchoring, back-to-back clearance, etc. The different accessories available along with a pallet rack are wire rack decking, post cushion guards, post protectors, row spacers, front-to-back supports, steel guard rails and others.
Can we buy used pallet racks?
Used pallet racks are also available from most suppliers. They can be found in all shapes, sizes, models, colors, and configurations. These racks are obtained from warehouses, are refurbished and repaired according to quality specifications, and are then resold.

There are several advantages to buying a used pallet rack as opposed to buying a new one: the low cost, the tax advantages of buying used equipment, and lowered interstate freight costs. The main aspects to be considered while buying a used pallet rack are the age of the rack, the condition of the rack, whether or not it has been inspected, whether or not the supplier will give a guarantee in writing, the integrity of the dealer, the available repair records and the type of environment in which the rack was previously used.

Make sure that the rack is in good condition; get it checked by a specialist if possible. Find out if the price is worth the equipment because price of used equipment is generally negotiable. Check for several models and styles before deciding on a particular one. Be aware of your needs and requirements.

Newspaper classifieds, dealer's advertisements, and internet websites are generally not good sources for buying used pallet racks. It is better to visit a dealer and examine the equipment personally.
Learn about Pallet Rack Systems:
Pallet rack systems can be designed as per user requirements. Customers need to take strength, safety, and value into concern. These days, pallet racks are being subjected to strict quality norms. Hence, they have to be reliable even under extreme conditions.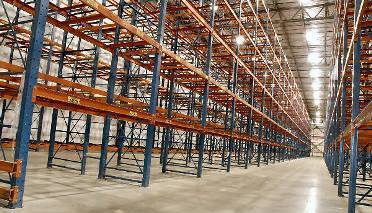 Designing of pallet rack systems is very complex. With advanced handling equipment, like very narrow aisle turret truck and high bay elevations, rack systems have very stringent tolerances. Additionally, the kinds of racks have also increased: pushback pallet racks, selective pallet racks, pallet flow rack, reel rack, double-deep selective, carpet rack, seismic rack, bolt connection rack, boat rack, empty pallet storage racks, mezzanine rack, custom/combination rack, die storage rack, structural rack, drive-in pallet racks, and drive-through pallet racks. This has made designing pallet racks all the more difficult. Another aspect is that these days it is mandatory for the systems to be resistant to seismic activity. However, not all pallet rack systems need to comply with this requirement.

The main aspects to consider while designing pallet rack systems are the operational requirements like storage density, ease of operation while accessing the pallets, retrieval requirements, and so on. The kind of construction is also important. Choice can be made between hot-rolled structural steel and cold-roll formed kinds. The hot-rolled structural steel kind of systems is more robust and resistant to damage from lift truck impact, but it is also more expensive.

Most rack failures are attributed to overloading, lift truck damages, or badly engineered systems. It is very important that the load should not cause too much deflection of the beam. There are many other technologies that can be adopted for greater safety from the pallet rack systems like fire baffles or in-rack fire suppression. Manufacturers would be able to determine the exact kind of pallet rack systems needed by analyzing the requirements.
What about returnable plastic packaging to help the environment?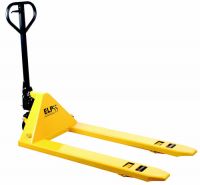 Heavy gauge thermoforming is as much a staple to the returnable plastic packaging industry as Chevy is to General Motors. It's always been there, not known for its cutting edge design but more because it is solid, durable, and dependable. Thermoforming plastic trays and pallets can also be misunderstood. It remains one of the longest lasting and reasonably priced returnable packaging products available yet customers are reluctant to try it. Why?

Research has shown that many people assume plastic trays and pallets made via heavy gauge thermoforming have the same high priced tooling as injection molding. Further, many folks are convinced the tooling takes just as long to produce. This is not true. Returnable plastic trays and pallets come with a moderate tooling charge (usually less than $7500) and can be made in 4 weeks or less, depending on the design.

Here are 10 tips regarding thermoformed plastic trays and pallets your salesman would rather you not know about:

1. Provide the actual product you need packaged to your supplier. This allows the supplier to see, touch, and feel the product and design the plastic tray or plastic pallet accordingly. you'll get a better initial design and a firmer price quote.

2. Assess if your actual product can be stacked upon and support weight. If this is possible, your returnable plastic trays will not need to be as deep which means a smaller plastic tray and a lower price per tray.

3. Design returnable plastic trays and plastic pallets that are stackable and nestable. This means that the plastic trays and plastic pallets can stack when fully loaded and nest inside each other when empty. Nested thermoformed plastic trays and plastic pallets take up less space and save on both storage and freight costs.

4. Consider having the thermoformed plastic trays marked with a stripe at least 1 inch wide and running either the entire length or width in a different color than the plastic trays. These stripes help your operators know when the plastic trays are loaded or empty, saving in labor costs and storage efficiency

5. Ask for concept sketches with overall dimensions of your plastic trays or plastic pallets before proceeding with a production order. This helps everyone remain clear on how the plastic trays or plastic pallets need to look and function.

6. Make a production tool for your thermoformed plastic trays instead of a wood prototype tool if possible. Prototype tooling is very rough and takes about 2 weeks to make. Production tooling can be modified and adjusted, within reason. This speeds up the overall design and production schedule and saves on the additional cost of a prototype tool which is worthless after it is used once

7. Evaluate different thicknesses of plastic once your production tooling is done. If a thermoformed plastic tray or plastic pallet could be made using thinner material this will save money. It is also possible a thicker material will perform better after thermoforming. You can see the difference and make an educated decision before running a large quantity.

8. Mark your thermoformed plastic trays or plastic pallets with an identification stamp or insert plate that has your company name, address, and any other important information such as Property of XYZ Corporation. This will help assure that the plastic trays or plastic pallets are returned to the correct address when empty.

9. Ask your supplier if they will purchase your thermoformed plastic trays or plastic pallets for recycling if and when they become obsolete. The price paid will be a scrap value but it is better than nothing.

10. Consider purchasing 10-25 extra plastic trays or pallets with your initial order for emergencies. Most companies misplace plastic trays and pallets and it is much more cost effective to run them in a larger quantity than having to pay for a special run later on.

Thermoformed Plastic Trays and Pallets Conclusion

If shipping parts to a dedicated customer or destination on a regular basis, consider thermoformed plastic trays and pallets as a packaging solution. While they aren't indestructible, they can handle normal abuse and easily pay for themselves within 1 to 1 years. As always, rely on your packaging professional for guidance and direction.
Apparel Search Add Your Company Contact Us About Us Advertise News Letter Legal Help
Copyright © 1999-2022 Apparel Search Company. All Rights Reserved.